GPS navigation
The HTC Magic GPS receiver needed a couple of minutes upon to achieve a satellite lock from cold start, which is quite a lot. Subsequent locks, as usual, were much faster to acquire.
It comes as no surprise that the only application you can rely on for navigation right out of the box is Google Maps. Its interface is slightly different from what we've seen before.
Quick double-tapping ca no longer be used for zooming in and out; instead, you now need to use the two virtual buttons at the bottom of the screen. These are hidden when not in use and only appear when you touch the screen. But despite the little changes, this is still the familiar Google Maps app we know and like.
Quite naturally the HTC Magic also sports Street View mode. In fact, this mode is probably the best part of the Google Maps on HTC Magic. If the Street View is available in the area you're interested in you can open a 360-degree photographic view of the area. When the digital compass is turned on it feels like making a virtual tour of the surroundings!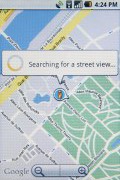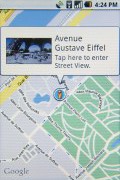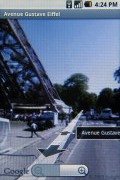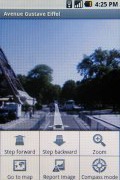 The digital compass takes the Street View to a whole new level
Unfortunately, voice-guided turn-by-turn navigation isn't possible using Google Maps. Still, there is some kind of navigation: your route and current location appear on the screen so you'll reach your goal sometimes… assuming you can read maps of course.
Luckily, there is a free app that allows turn-by-turn voice-guided navigation using the HTC Magic and it's called AndNav2. The latter uses Google Maps, again, but adds some extra features that justify the download. AndNav2 uses the inbuilt digital compass and you no longer have to turn the handset to orientate the map to match your direction.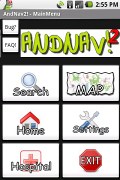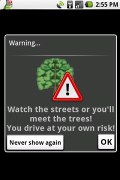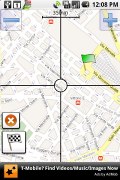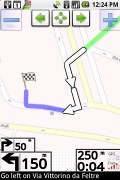 The AndNav2 navigation application
As mentioned, the AndNav2 app offers turn-by-turn navigation, which isn't bad at all. The voice-guided part, however, is questionable - to use it you need an extra, free app (Text-To-Speech Library) which supports English along with many other languages. Using text-to-speech engines instead of pre-recorded voices is bound to give you a horrific computerized voice output but still the app is helpful.
Tweaks & Modding
Android being an open-source OS was sure to attract a lot of attention from modders. You can change quite a lot on your Android phone - you just have to know how. However, not everyone will be comfortable with flashing their brand-new-bought-with-hard-earned-cash phone, but as the saying goes - no pain, no gain.
You've probably seen a video of HTC's Sense UI and are worried if you'd be able to get it on your Magic (we know because you're reading this section). Well, the answer is yes - you can! It's still unclear if there will be an official way to do it but if are willing to flash the phone with an unofficial ROM you can get it right on the spot.
Putting Sense UI on the Magic has a lot of advantages, not the least of which is using an interface that is the result of many years of tweaking an OS with an aging interface that doesn't stand up to newcomers (we won't mention any names).
An interesting side effect - since HTC Hero supports multi-touch and technically the hardware of the Magic also supports it, then the Hero ROM enables multi-touch as if by… Magic!
Keep in mind that there are two versions of the Magic - one with 192MB RAM and one with 288MB RAM, while the Hero has 288MB. The lower amount of RAM seems to be causing the Sense UI to run slow, but it could also have something to do with it not being fully optimized yet.
Also, since this is an unofficial port there could be all sorts of issues and bugs. These things are being fixed slowly, but be sure to read carefully what the author of the port wrote and what people who have tested it have commented.
As usually the xda-developers forum is your best source for information on the matter.