Excellent picture gallery and a screen the size of a photo frame
Once you open an image, you can make use of auto screen rotation to view it in landscape mode or you can zoom in by double-tapping over the part of the image you want to zoom in on, or tapping the magnifying glass in the lower left and using the slider that pops up to zoom in.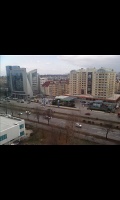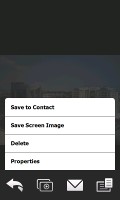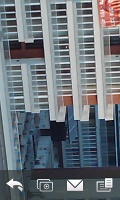 Opening an image • context menu • zooming in and thumb panning
Scrolling to the next image is a matter of a single finger sweep and it's almost instantaneous.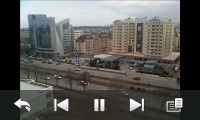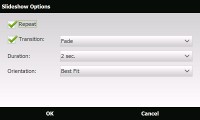 Opening an image in landscape mode • slideshow options
It's got to be said that the MAX 4G has a certain advantage over competing devices when it comes to image browsing since this is one of the applications where WVGA resolution and sheer screen size does count big time. The images look great on the huge high-res screen.
And there's a cool music player too
Much like the HTC Touch HD, the MAX 4G has a good music player built into the Music tab of the homescreen that makes heavy use of album art. The music offers cool cover flow animation for you to pick an album.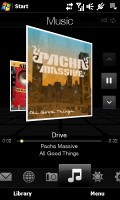 The really cool music player runs directly on the home screen
In case you want to filter tracks by other criteria besides album, the Library shortcut will take you to the player backend where you can sort music by artist, genre, composer, purchased tracks or simply create custom playlists. The visual interface of the library is fluid with great usability.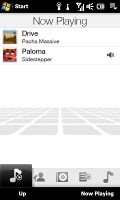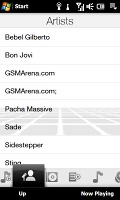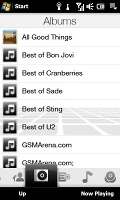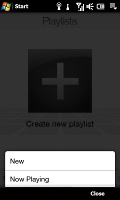 The music library: Now Playing tab • artists tab • albums tab • context menu
Decent audio quality
The audio quality of the HTC MAX 4G is only a bit worse than the two most recent HTC handsets - the Touch Diamond2 and the Touch Pro2. It sports a decent frequency response, which only deviates from the +-1db level at the very end of the audible range.
The noise level and dynamic range readings are pretty good, rivaling some dedicated music phones. The total harmonic and intermodulation distortion scores are also decent, with only the stereo crosstalk remaining average. We do believe that its performance is more than adequate for the huge part of the users though.
| | | | | | | |
| --- | --- | --- | --- | --- | --- | --- |
| Test | Frequency response | Noise level | Dynamic range | THD | IMD + Noise | Stereo crosstalk |
| HTC MAX 4G | +0.318, -1.86 | -85.2 | 87.5 | 0.023 | 0.181 | -75.0 |
| HTC Touch Diamond2 | +0.12, -0.60 | -86.9 | 89.1 | 0.022 | 0.191 | -86.8 |
| HTC Touch Diamond | +0.42, -2.46 | -84.0 | 87.0 | 0.023 | 0.338 | -85.6 |
| HTC Touch Pro2 | +0.17, -1.61 | -84.6 | 87.1 | 0.023 | 0.182 | -84.9 |
| Apple iPod Touch 2G | +0.04, -0.05 | -91.4 | 91.5 | 0.0027 | 0.012 | -90.0 |
| Samsung i900 Omnia | +0.37, -1.15 | -79.3 | 79.3 | 0.0039 | 0.027 | -78.7 |
| Sony Ericsson XPERIA X1 | +0.11, -0.47 | -93.2 | 94.8 | 0.448 | 0.897 | -96.3 |
| Nokia N97 | +0.04, -0.27 | -90.7 | 90.7 | 0.0048 | 0.896 | -89.5 |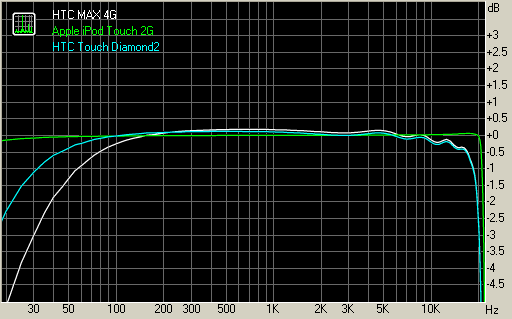 HTC MAX 4G frequency response graph compared to the Diamond2 and the iPod Touch 2G
You can learn more about the whole testing process here.
Video playback performance
The HTC MAX 4G has a nice video player but it only supports the video/audio codecs natively available to Windows. To enjoy a more versatile video support on the MAX 4G (DivX or XviD for example), a third-party video player would be required with support for more video types.
We resorted to the well-known Core player. The HTC MAX 4G is pretty good at WVGA-res XviD video playback - we played an XviD encoded DVD Rip for PC playback and, luckily, there were hardly any skipped frames.
Videos up to VGA resolution and bitrates up to 1.5 Mbps are fine on the MAX 4G but going beyond those numbers is sure to result in skipped frames. If you ask us, this range is good enough for a handheld video player.
No FM radio on board
The HTC MAX 4G doesn't have an FM radio on board and we wanted to make that perfectly clear as the HTC and Yota product pages seem to be in disagreement over this.
Unfortunately, the trick that we used to access the dormant FM radio hardware on the HTC Touch Pro2 didn't prove successful with the HTC MAX 4G so it's a fair guess there was no FM radio there from the very beginning.