A couple of Windows Phone 7 HTCs tease with leaked info - a lot of HTC Mozart specs were revealed and it was fondled in a quick hands on video. Then the yet-unseen HTC HD7 got a price and release date - for Germany at least.
The HTC Mozart runs Microsoft's latest on a 1GHz Qualcomm QSD8250 CPU and 576MB RAM. It's got a 3.7" WVGA S-LCD screen and an 8MP camera with xenon flash. Or so the rumors go anyway, HTC only teased Windows Phone 7 during their recent London event, they didn't show anything.
The rumored specs go on - 8GB built-in storage, quad-band GSM/GPRS/EDGE and dual-band 3G with HSPA (900/2100). SRS and Dolby Mobile are also on the spec sheet and finally a 1300 Li-Po battery.
Way back in June, we saw a Telstra brochure advertising the HTC Mozart (they really jumped the gun, didn't they?) - which looked like someone took an HTC Desire and installed Windows Phone 7 on it. The target launch was listed as October.
A O2 Germany leaked document we stumbled upon today lists the HTC HD7 - it will cost 79 euro with a 2 year 20 euro plan or 599 euro (790 USD) without a plan. The release date is set for Week 42 of this year - more specific rumors state October 18 as the most likely release date.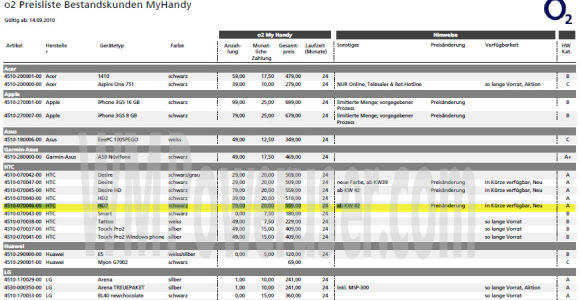 The leaked O2 Germany document reveals the HTC HD7 pricing and launch date
We are yet to see a photo of the HTC HD7 but we know one thing - O2 Germany will be selling black HD7s. The price is not finalized and might change by the time the October launch date comes by.
Source: HTC Mozart, HTC HD7
?
Nice!!! for sure WP7 will be my next phone.
G
@Claudia: I can't agree with you more!
C
Please everyone calm down its just a phone. but just a note to Iphone users if you believe that you have the best phone in the world with the best OS why are you making comments on a mobile phone site and also why do you spend your time making commen...
ADVERTISEMENTS