At the moment the absolute latest version of Android is 5.1.1, which is already out for some devices. However, the HTC-made Nexus 9 is now in the process of receiving a software update to Android 5.0.2.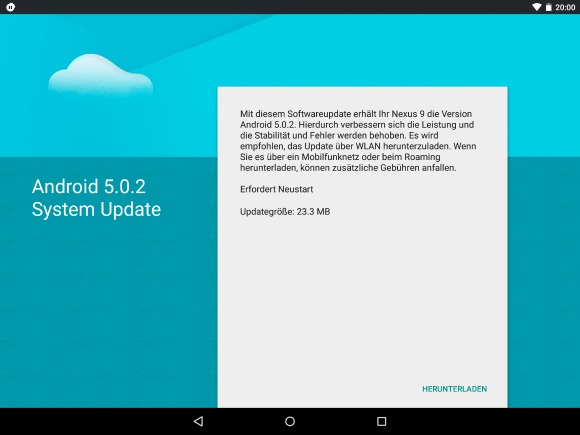 That's quite baffling, but at least it is a software update. Throughout its short existence, the Nexus 9 previously only got one of those, bumping its OS version from 5.0 (which it launched with) to 5.0.1. That's it. Other Nexus devices have since made the jump to 5.0.2, then 5.1, and now 5.1.1, but the Nexus 9 with its 64-bit Nvidia chip has been left out.
Until now, that is. The update to Android 5.0.2 Lollipop is on its way to Nexus 9 owners, and it's around 23MB in size. After applying it, you'll be on build number LRX22L. As the minor version number jump from 5.0.1 to 5.0.2 implies, this one should be all about the bug fixes.
At this rate, expect the Nexus 9 to finally run Android 5.1.1 in a few months - perhaps receiving that update while the rest of the Nexus family is getting 5.2.
l
Anyone else have nexus 9 that applies the update them gets stuck on the boot animation? I'm scared to reboot. Worried it won't come back.
D
What's the use of extra space and high end specs if you can't multitask, and make gsm call & text, not to mention the competition can already multitask on dual windows and are already supporting dual sims? WAKE UP GOOGLE!
D
It was delivered with Lollipop, check your facts. It's just not the latest version at present