This article is outdated. We have already published a full review.
Sense UI 5 centered on BlinkFeed
The HTC One runs Android 4.1.2 Jelly Bean, but more importantly it comes with the latest version of Sense UI. Much like Samsung, HTC prefers to add its own exclusive features to Android, instead of marching to Google's drum.
Here's a quick overview of the HTC One interface:
The lockscreen looks different but it is unchanged in terms of functionality. There's a clock, weather info and four (not five) positions for shortcuts. You can put a folder instead of an app shortcut if you need more than four apps accessible from the homescreen. The Lockscreen can show info on missed calls and received messages.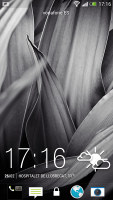 The new lockscreen has no new functionality
The homescreen is quite different, however. The leftmost pane is called BlinkFeed. It aggregates posts from your social networks and news from over a thousand news sources. You can pick what topics you're interested in and BlinkFeed will automatically pull up interesting news. You can also use the search function if you're looking for something in particular.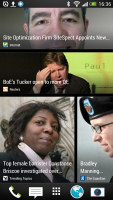 BlinkFeed is the default homescreen pane
You're not stuck with BlinkFeed if you don't like it - the rest of the homescreen panes are the standard type with shortcuts and widgets and you can set one of them to the be default one (the one you get when you tap Home).
If you have social networking accounts linked, you can post on them straight from BlinkFeed, including sharing stories that you've come across on the feed.
Overall, BlinkFeed feels similar to Sony's Timescape widget, except it's not a widget, which we think would have been the preferable approach - a widget is easy to move to a different homescreen pane, to delete and even resize, so that you can combine it with shortcuts or other widgets on the same pane.
HTC have included one other major deviation from standard Android in Sense 5. Android has been moving away from a dedicated Menu button, instead having a button in the app interface itself. HTC took a different approach and created a hidden bar with options that appears when you swipe down on the screen. You should be careful where your swipe starts as a swipe from the top of the screen would bring down the notification area instead, you need to start lower.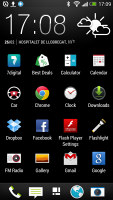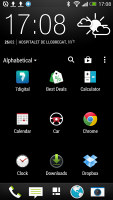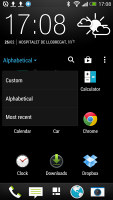 Swiping down reveals a menu bar with options
It's an interesting addition considering how few gestures are used in Android, especially compared to something like the BlackBerry OS 10. But apps will need to specifically support this and most apps will still have a menu button integrated into their UI. Older apps that rely on a dedicated Menu key (be it physical or on-screen) run with a black bar at the bottom just for an on-screen Menu key (not many apps still do this, but it happens).
Beyond this, the interface is pretty standard. You get multiple regular homescreen panes (ones with shortcuts and widgets) that you can re-arrange and add/delete panes with the traditional pinch zoom. Widgets are pulled out of a dedicated drawer and not from the app drawer, similar to previous versions of Sense.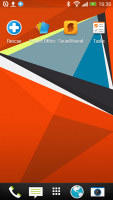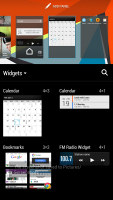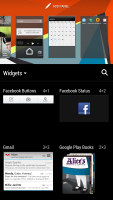 BlinkFeed aside, the homescreen is pretty standard
As for the app drawer itself, by default it only shows a 4 x 3 grid of icons, which does not make best use of the large, high-res screen. The shortcuts aren't even bigger than usual, they just have plenty of padding. Luckily, you can switch to a 4 x 4 grid.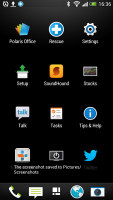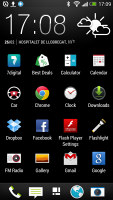 The difference between 4 x 3 and 4 x 4 modes for the app drawer
The HTC One comes with a dedicated Car mode screen, which has been styled to look like the rest of the interface. There are only five big controls besides the clock and weather info. There's the music info, which takes a whole row by itself, and shortcuts to Navigation, Dialer, the Music player (again) and for Voice commands.
The app can be set to automatically launch when you put the phone in the car dock and connect to the car's Bluetooth. There's also an option to resume playback of the music player or radio when the Car mode app launches, for an uninterrupted listening experience.
There's an interesting options in the power menu of the phone, borrowed from Windows Phone 8. It's called Kid mode - you can add info each of your children, with photo and birthdate and pick which apps they have access to. One annoying bit is that to enable Kid mode the first time around, you need to sign up via email.
HTC usually includes an app to help you switch from your old phone by transferring the important data, but with the HTC One they've updated it. It can transfer data from an old HTC phone or an Android from a different maker (v2.3 Gingerbread and above), a Windows Phone, a BlackBerry or an iPhone.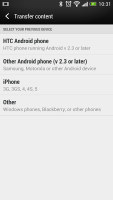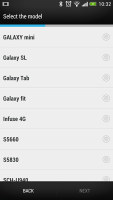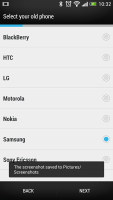 Transferring your data from your old phone to the HTC One is easy
The switch from an iPhone is pretty easy - the One can even read the data off an iPhone backup file, so even if you've lost or sold your iPhone, you'd still be able to copy all your contacts easily.