Connectivity
The HTC One is jam packed with connectivity options and covers a wide array of network frequencies. You get quad-band GSM, quad-band 3G and market-dependent LTE support, making the One a true globetrotter.
The local wireless connectivity has Wi-Fi a/b/g/n and DLNA support (both client and server, for images, videos and music) and stereo Bluetooth 4.0.
HTC has conveniently designed a special options screen, when you connect the One with a PC. The long list of options includes Portable Wi-Fi hotspot, settings, USB and Bluetooth tethering (the phone becomes a modem).
NFC connectivity with Android Beam is present too. We found it to work hassle free with webpages and heavier items like photos.
There's no microSD card on the HTC One but the 32 gigs of onboard storage give you plenty of space (there's a 64 GB version as well). The USB on-the-go functionality is certainly a welcome feature here.
HTC's Portable Hotspot can support up to 8 devices, you can WEP, WPA or WPA2 encrypt the hotspot and you can enable "allowed users" only to connect or leave it open for all (unsecure, but the quickest setup).
The app can be set to power off automatically after 5 or 10 minutes of inactivity, saving your battery in case you forget to switch it off when you are done with it.
The HTC One comes with an MHL port, so if you plug a MHL dongle in, you can output HD video over a standard HDMI connection. The phone's UI is mirrored on the TV and with the fullHD resolution of the display, watching on an HDTV is a joyful experience.
The HTC One also has a built-in Infrared port, which, coupled with the excellent remote app, allows you to remotely control a whole host of living room equipment. The smartphone can be setup to control all sorts of TV's, receivers, various video and audio players - pretty much any gadget that uses the standard Infrared remote controls.
Web browser has full Flash support
HTC One comes with the latest version of the Sensed-out Android web browser. Combined with the fullHD display and potent Snapdragon 600 power inside, the Jelly Bean browser makes for an awesome time on the web.
Most of its UI is out of sight, leaving the entire screen to the web page. And even when it does appear it consists of a single bar, which now holds the address field, the Tabs and Menu dropdown shortcuts.
HTC has also thrown in some extra buttons at the bottom of the screen, which seemed to pop up when you scroll back to the top of a page, which was getting a bit annoying at times. You see sometimes those buttons appeared along with the top bar, whereas on other occasions they remained hidden when the top bar was showing.
Aside from being way too big, those mysteriously behaving buttons let you save a page in your bookmarks or reading list, view bookmarks, saved pages or tabs. You might want to enable Quick controls - they let you tap on any point on the edge of the screen and move your finger to select the desired option from a jog-dial menu.
Once you select some text, you can copy it, do a Google search with that text as the query or share the text over a message or social networking.
Tabs can be closed with an X button on their top right corner - they can't be swiped off the screen like you do in the app switcher. Incognito tabs are available if you want to browse without leaving traces.
You can also request the desktop version of a site, instead of the mobile one. Another cool feature is preloading search results that the phone believes are relevant, speeding up the whole process.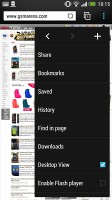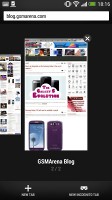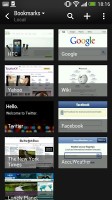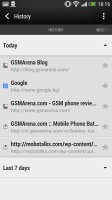 Options • Tabs • History • Bookmarks
The HTC One comes with full Flash support in the browser. We tested a couple of games and videos and everything worked like a charm.
The Google Chrome browser also comes preinstalled on the HTC One. Its interface is easier to navigate but it doesn't offer Flash support.