It has become usual for case manufacturer Spigen to release photos of high-end smartphones wearing its cases before their official reveal and the HTC One 2014 is no exception.
The photo of the HTC One 2014 that's currently available on the Spigen website shows both the front and back of the phone. Spigen's case has special design for the One's dual cameras as well as the dual LED flash. The front is bare of any casing to leave space for the stereo speakers.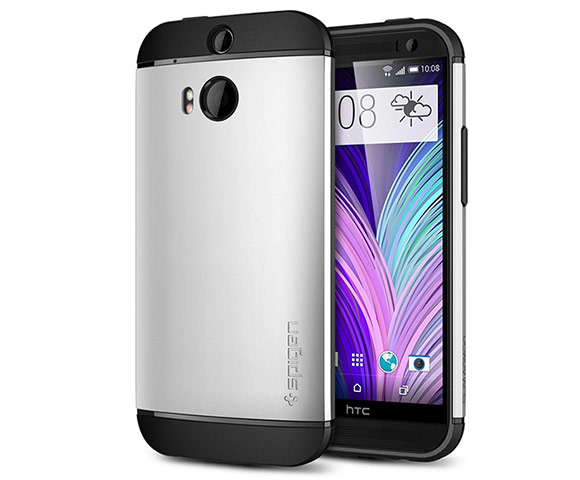 There's no actual new information about the HTC One 2014 except the new photo. However, we already know just about everything there is to know about the phone. Its dual cameras will give you more control on where the focus of the photo is and will also shoot in 3D. You can check out our extended coverage of the phone's specs and leaked sales guide.
The screen will indeed be a 5" 1080p unit, while the processor is a quad-core 2.3 GHz Snapdragon 801. Under the aluminum unidoby resides a 2,600 mAh battery. The SIM is said to be of the nano variety (like on the iPhone 5, 5c and 5s, Moto X, etc.) and there will be a microSD card slot to compliment the preloaded 16 GB of storage (10GB of which will be user available). HTC plans to sell 32GB and 64GB versions, too.
In less than two weeks, we'll know all about the HTC One 2014 as the company will be making it official on March 25.
s
Is it just me, or does the HTC logo placeholder on the front look smaller in this leaked picture? I was hoping they'd get rid of it completely, it serves no purpose. Apple has done fine without plastering it's name on the front of it's phone, if HTC ...
D
Lol why even bother having an event to reveal the phone we literary know everything and seen everything about ! Can't they keep their confidently On the other hand nice case
?
It's time to stop with this "overclocks" manipulation, iboys. S5 HAS THE BEST processor of all three(new HTC One, Z2 an S5). Go and read about it. SD 801 is NOT the same like SD 800 but just overclocked.
ADVERTISEMENTS