Camera
The main camera is a brand new unit, specially designed for the HTC One A9. It has a 13MP BSI sensor (4:3) behind an f/2.0 lens and armed with optical image stabilization.
A dual-tone, dual-LED flash will help out for night shots, while a sapphire cover keeps the lens from getting detrimental scratches. Good thing too since the camera protrudes slightly from the back (about as much as on the iPhone 6s).
The selfie camera uses HTC's UltraPixel sensor (4MP, 16:9), which also employs an f/2.0 lens.
HTC streamlined the camera UI, but it remains familiar to One users. Auto mode is for quick and simple shooting, while Pro mode lets you tweak shutter speed, ISO and other settings to get the perfect shot. For ultimate tweaking you can switch to RAW files that you can edit later.
The One A9 comes with an automatic RAW Enhancement option that takes several seconds to process the file and bring out the best quality. It doesn't allow manual tuning of the parameters though, you can use third-party software if you want total control over the processing.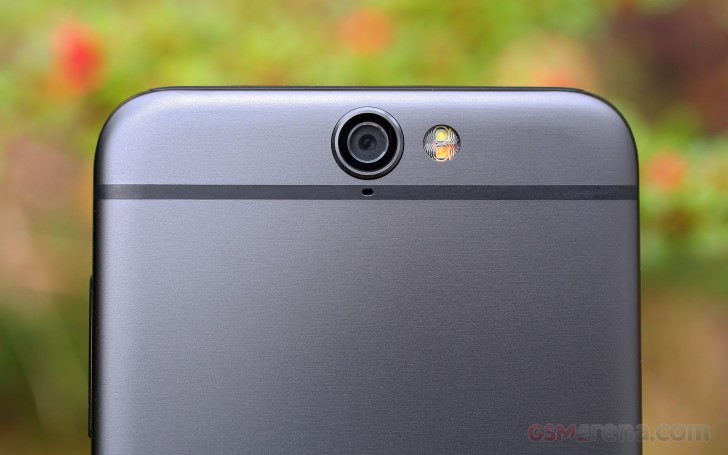 Both cameras top out at 1080p @ 30fps video recording though, a limitation of the Snapdragon 617 chipset. There's no 60fps mode either for those action-packed scenes.
The A9 seems more focused on still photography than video excellence, aside from one thing - the Hyperlapse mode. We've seen several implementations of the hyperlapse concept (by Instagram, Microsoft and others), but if you're unfamiliar, hyperlapses are basically heavily stabilized time lapse videos shot by hand. They look impressive, and the best app we've seen so far - called Hyperlapse - is only available on iOS, so kudos to HTC for bringing that functionality straight inside the A9 camera.
Yes, the One A9 has OIS, but Hyperlapse makes it look like the camera is sliding on rails, giving the video a cinematic feel.
You can speed up time by up to 12x and then use Zoe to stitch several videos together, add some music and you're ready to share your vacation videos with friends.
Android 6.0 Marshmallow
The HTC One A9 is the first non-Nexus we see with Android 6.0 Marshmallow on board. Launching with Marshmallow is important for the HTC One A9 as it enables a number of important features. Android Pay is one of the big new features and while it will be available on all NFC-enabled Androids, the A9 has the fingerprint reader for added security. Any third-party app can use the fingerprint authentication as well thanks to the new APIs in v6.0.
Google Now on Tap is the next generation of ambient intelligence from Google. "Ambient" because it's like part of the scenery - it's there, it's helpful and you don't even have to ask it anything to get relevant info. Google Now so far has been something of a black box with no obvious way to guide it.
Now on Tap fixes that, it interacts with what's on your screen. Say you're visiting GSMArena.com and you see an article on HTC. Long pressing the Home key will trigger Now on Tap and you'll get relevant links and info about HTC. While reading an article about the movie "The Martian" you'll get links with information about the movie, its director Ridley Scott, etc.
Depending on the topic, there will be additional actions like booking seats at a restaurant.
Another novelty inside Android 6.0 is the new Doze power state and it's perhaps part of what enables the HTC One A9 to last so long on its relatively limited battery. Doze basically puts you're phone to sleep - if it's stationary and the screen is off, apps wake up less and less often to update.