HTC's next top of the line smartphone has been in the rumors a lot lately, and we already know it's going to be sold as the One A9. Its codename was Aero, and we may have already seen it in a leaked image.
As for specs, we now have a much better idea of what to expect, because a One A9 prototype was put through the paces of the GeekBench benchmark. This has helpfully revealed a couple of key features of the device, thanks to the benchmark's information screen.
The One A9 runs Android 5.1.1 Lollipop and is apparently powered by MediaTek's upcoming Helio X20 chipset, which comes with a deca-core CPU (that's ten cores, yes). Of those, two are going to be Cortex-A72 cores, which should perform a lot better than the Cortex-A57s in other high-end chipsets. The other eight cores will be Cortex-A53, divided into two different clusters for maximum performance with minimum power drain.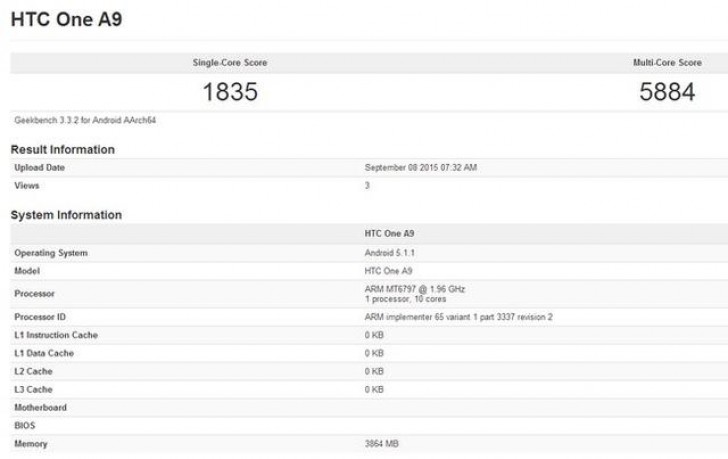 The chipset will be aided by 4GB of RAM, which is now the norm for any flagship offering worth its salt. It's also going to have support for LTE Cat.6 networks, with theoretical peak download speeds of up to 300Mbps, as well as 50Mbps uploads.
The Helio X20 has outperformed every competitor out there in the multi-core benchmark, having a score of 5884, more than even Samsung's Exynos 7420, the current benchmark champion.
The One A9 might become official at a special event on September 29, which HTC's already announced. That could also be when we'll see the Butterfly 3 making its debut.
J
Fortunately Amazon & ebay dont live in a country :p
W
Where is sd820? Is it in testing or Aero will carry mt only?
L
It sounds nice but how are they gonna improve further next year on M10?? SD820 and then?? How about new Super LCD iteration i.e SLCD4?