HTC just launched its flagship and to help with the market push the company has announced its new cash-back program. The promotion offers you $100 for trading your current smartphone for a new HTC One.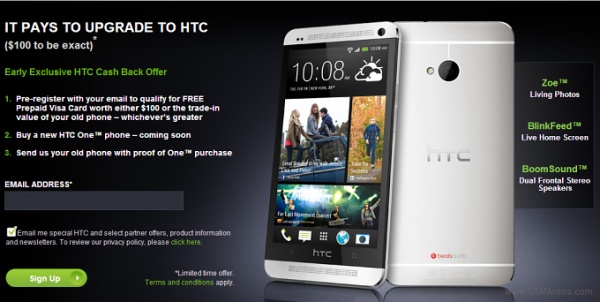 The latest HTC flagship packs a chipset of unmatched power and will surely be one of the front runners in the smartphone market. HTC One also comes with the latest Sense UI along with a innovative camera app called HTC Zoe.
If you are wondering on how to get the discount, here's how you can trade your current smartphone:
• Pre-register with HTC in its official website or you can trade in your old smartphone
• Purchase an HTC One smartphone, which will be available soon
• Send the proofs of smartphone purchase along with your old smartphone
After completing the above process, you would be entitled for a $100 Visa card. Of course, the smartphones would be unlocked since they would be coming straight from the HTC stores and you can sign a contract with the service provider of your choice.
We have already got our hands dirty with the HTC One smartphone, check out the hands-on article.
t
Your HTC One X+ shows $150. Sorry :(
D
Trade-in values are always lower than what you could get selling on ebay. But it's nice knowing that you can easily get rid of your old phone, and if you're not happy getting like $200'ish for your old OneX, you can just give them an old $20 phone an...
G
Seriously? Please read the advert again: , either the 100, or the trade in value of your phone, whichever is greater!
ADVERTISEMENTS