Sense 7 complements Android 5.0.2
The HTC One E9+ runs on Android 5.0.2 Lollipop, with HTC's own Sense 7.0 UI layer on top, and we're already familiar with this latest iteration from the One M9.
The lockscreen hasn't changed much since Sense 6 - it features a clock with weather info plus four shortcut slots. Missed calls and incoming messages are duly displayed, too, of course. Lockscreen widgets aren't available this time around though.
The lockscreen in Sense 7 offers a brand new type of notification - mealtime, courtesy of the new Blinkfeed. The Blinkfeed will learn your lunch breaks and dinner times and it will pop up suggestions for nearby restaurants shortly before the time comes.
HTC One E9+ supports both swipe up and double tap to unlock, meaning you won't have to rely on the power/lock key all the time. You should use the gestures with care though, as you may end up accidentally unlocking your phone.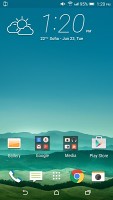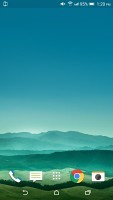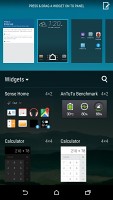 Sense 7 homescreens • Editing homescreens
The leftmost homescreen pane of the HTC One E9+ is once again reserved for HTC Blinkfeed. It aggregates content from your social networks (Flickr, Foursquare, Google+, Instagram, LinkedIn, Tumblr, Twitter, Zoe), as well as from over a thousand news sources. You can pick the topics you're interested in and Blinkfeed will automatically pull relevant content. You can also search for specific content.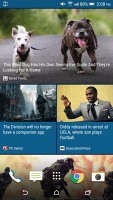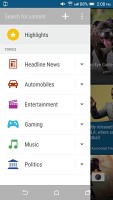 Blinkfeed combines social updates with news articles
The Blinkfeed service, with the help of the new Sense Home feature will now suggest nearby places to eat. Blinkfeed becomes aware of your eating habits and will eventually begin poping up restaurant suggestions on your lockscreen shortly before your lunch break or after you leave work. And if some of your friends have left reviews for those places, those will be shown as well, thanks to the Yelp and Foursquare integration.
Homescreens are fully customizable with links and widgets. If you don't find Blinkfeed particularly useful and don't want it lingering on the front you can do away with it just like any other widget.
The Sense Home widget, which debuted on the M9 is present here as well. It looks quite ordinary with eight shortcuts - six of them are app shortcuts, while the last two are folders for recent documents and recommended apps you may want to download.
You can't configure the shortcuts, Home Sense chooses them for you, but you can opt to remove the smart folder. After you input your home and work addresses, the widget changes the visible shortcuts depending on your current location - work, home or outside. It learns what you are using the most and puts those apps up front. The Home Sense locations are also used by the Blinkfeed for mealtime suggestions.
Wallpapers, lockscreen style, ringtones, notification sounds and alarms can be customized via a dedicated menu.
Themes are also supported, and they change your lockscreen and homescreen wallpapers, the app drawer background, the default messaging app wallpaper, the system color scheme, the icon package for apps and settings, all ringtones and the system font.
There is a dedicated Themes Store for downloading themes, but you can also get fonts, pictures and ringtones separately and apply them to your current theme. You can even build your own themes very easily and if you think they are really good, you can upload them to the store for others to use.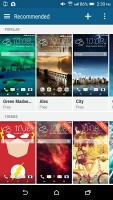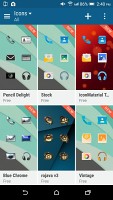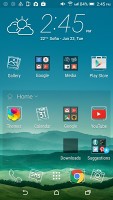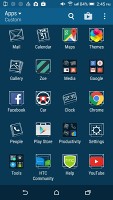 Theme Store offers various customizations including icon and font packs
One finger swipe from the top of the homescreen will open the notification area, which features a cleaner look in Android 5.0 Lollipop. An additional swipe reveals the quick toggles area that include Wi-Fi, Bluetooth, Airplane mode, screen auto-rotate, flashlight, location on/off, and the option to cast the screen. A double-finger swipe goes straight to the toggles, which are configurable, of course.
The default layout of the app drawer is a 4 x 5 grid of app icons. A 3 x 4 mode is also available, though a 5 x 6 would have made far more sense. You can sort app icons alphabetically, chronologically or manually and you can hide the ones you don't need.
HTC is sticking with the 3 x 3 grid of thumbnails for the recent apps, and courtesy of Sense 7 there's no limit of 9 visible apps - once you pass 9 recent apps, a new page pops up to hold even more shortcuts. The default Card switching from Lollipop is available too, you need to enable it from the Task Switcher Settings.
Screen pinning allows to have an app displayed at all times until you unpin it with a simultaneous press and hold on the Back and Task switcher buttons.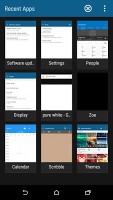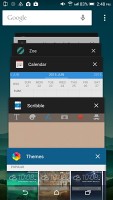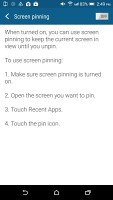 Custom app switcher complete with the default card-view • screen pinning
HTC Sense has a dedicated Car mode screen, which can be preset to launch automatically when the phablet connects to your car's Bluetooth.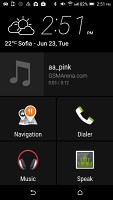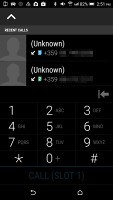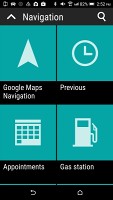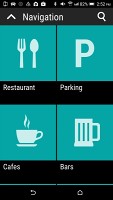 Car mode with big, easy to hit buttons
HTC One E9+ comes with the Zoodles app, which serves the purpose of a restricted access Kid mode. You set up a profile for each of your kids - with a photo and birthdate - and pick which apps they can have access to. You can also download new fun videos and games straight from within the app.