HTC USA has shared new information for on-contract HTC One owners, who are eagerly anticipating the KitKat update to arrive on their phones. The phone maker unveiled that the update has been sent to carriers for approval.
After the final testing is complete, the update will be certified and then pushed to users. No one knows how much time the certification period will take for AT&T, Sprint, T-Mobile and Verizon to finish.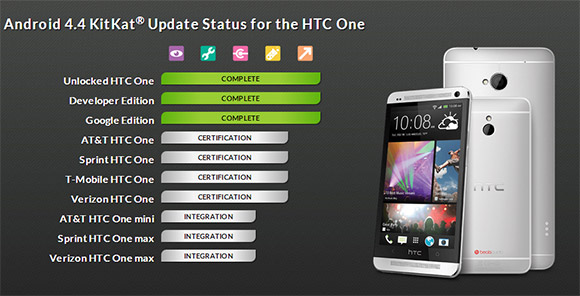 In Europe, the update is already available for HTC One owners as it is for the Developer and Google editions of the phone.
The AT&T One mini, Sprint and Verizon One Max are currently in the integration stage of the update process. It's the second out of a total of 4 steps (plus evaluation), so be patient mini and Max users out there.
Last year, HTC informed its users of how an Android update is made in a cool infographic. You can check it out here.
M
I am also getting the same error while downloading (223 MB approx ) bro... I Heard that no major UI/software update available with 4.4. And in HTC one battery is draining faster after the update.
i
did the lockscreen themes comes back with kitkat update i have htc one running 4.3 sense 5.5 and the lockscreen theme option not showing .. sorry for my bad english
?
I have received the notification to download the update but as I press the download on my screen it says: "download unseccessful, update file corrupted". Very nice HTC!!! I have unlocked version of HTC One. Previous update done with no prob...