HTC's affair with Beats ended a while back, but is the smartphone maker courting another popular audio company? Harman/Kardon is a hi-fi company that makes anything from headphones to car audio and it seems that Sprint's HTC One (M8) has BoomSound speakers manufactured by just that company.
It seems that units sold by Sprint already have the speakers in them, but HTC hasnít closed the deal completely, which is why the company isn't bragging about the special speakers just yet.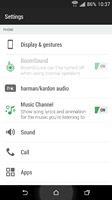 Harman/Kardon option in the Settings menu of a Sprint HTC One (M8)
XDA Developers user Rydah805 posted a screenshot featuring a Harman/Kardon option in the settings menu. We'll have to wait until HTC closes the deal to find out if it has any plans to use H/K speakers on other smartphones, especially other One (M8) phones.
?
i listened to this today on full volume with my iems no distortion great
M
Very good! u can get good stuff at very good price in Europe. In here either get it at 200% of price or by online which have very high additional cost. Definitely our genre of music is different, so we have apart point of view.
M
HD650 better to be driven by tube amps to reveal it's signature, not because it's open air. Many open air cans i.e Beyer DT880 32 ohm can be driven directly to handphone. I'm always select very good recording source, at least FLAC and U'r rite, hate ...