HTC's Vice President of Management, Mo Versi, has posted a tweet saying that the HTC One (M8) Android 4.4.3 OTA update will arrive "late next week." The update will be available to the international unlocked version of the phone as well as its developer edition.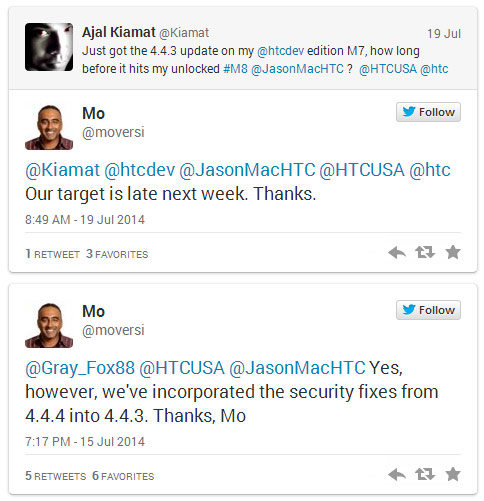 Versi added that the update includes security fixes from the Android 4.4.4 version, which is good news. This means the company will skip the Android 4.4.4 update for the device and move straight to the Android L-release and do it fast.
The carrier versions of the phone for AT&T, T-Mobile and Verizon will also receive the update. Sprint users have been lucky and are already rocking Android 4.4.3 on their One (M8).
n
HTC one m8 update too virsion in my mobile . But system update too mb 252.04.my phone is other country.
A
How long does m8 takes to receive update ?
P
I have been waiting for the M8 update on Telecom NZ for a while too. Anyone here from NZ have 4.4.3 yet?