Final words
Looking back at what just happened, it did feel more like a gentleman's duel than a brutal cage fight. Great-looking and well-behaved. Too well-behaved perhaps for an exciting and engaging matchup? We don't know about that but these two are definitely not the kind to walk away when the going gets rough.
There's a certain kind that wouldn't let themselves be dragged into a fist fight but will do more than just duck when the punches start flying. Regardless if outweighed and outnumbered.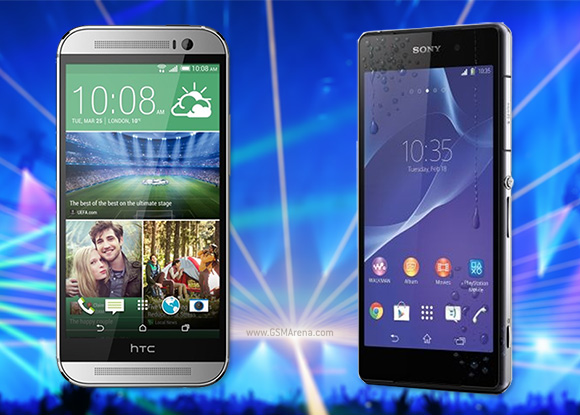 Yep, there're better spec'd flagships out there, longer spec sheets and bigger box-office numbers. But although the sales are the ultimate decider, a product's game-changing abilities are hard to quantify. Sony pioneered water resistance in the high-end and the likes of Samsung decided to take the plunge as well. Coincidence - we think not. The HTC One, on the other hand, has been Android's first line of defense against Apple fans taking the mickey out of the platform's plastic flagships.
This was a battle of similar design philosophies that haven't resulted in nearly identical look and feel, quite the opposite. Each maker had their own take on build and looks, giving us two of the hottest pieces of Android hardware.
In truth, the Sony Xperia Z2 entered the contest better prepared - it has more RAM, the better still image quality and higher-res videos, the water resistance and dust protection, the better battery backup. It's the specs-junkie's choice in this pair.
The HTC One (M8) has the better screen and audio quality. The dual camera setup allowing depth-of-field effects and Zoe will be well appreciated if pixel-peeping isn't necessarily your game. The IR blaster and a high-res front cam score some points too.
Overall, the HTC One (M8) is losing the fight on the spec sheet but isn't lagging too far behind on things that should matter to most. The chipset is just as snappy, the Sense-d Android UI is feature-rich and tasteful and the battery life is good enough. And don't think that the display is worse because it's smaller - 0.2 inches less of screen diagonal are easily offset by better contrast, viewing angles, reflectivity and brightness.
All things considered, there's a reason why Sony's been doing so well lately. The Japanese are looking extra solid in the midrange - and that's admittedly an HTC weak point. With that kind of backup from the ranks, Sony's new 6-month release cycle doesn't look like a gamble. Theirs is the standard-setting mini version of a flagship too.
OK, that's a good few things HTC can learn. But with the HTC One (M8), it is still perfectly able to prove that building a proper flagship isn't one of them.