Final words
Latest Snapdragon, latest Android and Sense, Dolby Surround added to HTC Boomsound, very good screen quality. With a proper camera finally on the list, the HTC One M9 is the all-round flagship smartphone the company should have had a while ago. The beautiful aluminum unibody looks as good as ever though and, if nothing else, the two-color design adds an extra bit of flair.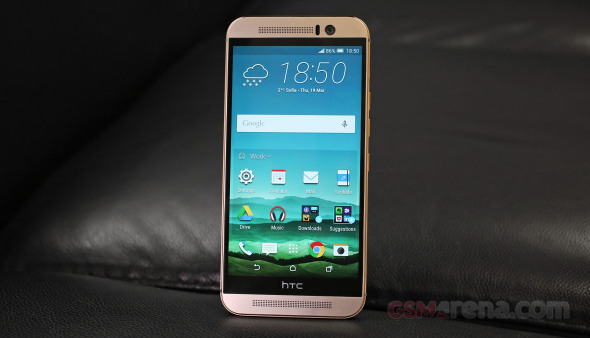 Hold one in your hand and it gets even better. The brushed aluminum casing delivers an unrivaled tactile experience and the edge around the screen aids in securing a firm grip and makes the phone feel slimmer. The larger than average footprint and weight are not as much of an issue in everyday use and are easy to live with.
It's on the inside where it gets complicated. Qualcomm's misfortunate Snapdragon 810 can be mighty powerful but heats up significantly under load. To address that, HTC tweaked the firmware to avoid thermal issues and performance took somewhat of a hit. So while we know the chip is capable, practical considerations limit what it can actually put out in the real world.
That is not to say, that the device lags or leaves the user waiting. On the contrary, Lollipop and Sense 7.0 team up for a delightful experience, with arguably some of the best Android customizations on the market. The interface is fast, consistent, stylish and rich in features, without being overly crowded. We guess however you'll be able to enjoy that combo on the One (M8) as well, in a couple of months or so.
The single most notable step up is without a doubt the camera. Innovations are welcome, but the UltraPixel concept has its limitations and those should have been foreseen, or at least acknowledged when the original One was released. Little excuse can be found for HTC's choice to stick with the same technology on the One (M8), and a third iteration would have been a disaster.
Thankfully, the company employed a conventional 20MP sensor (admittedly with less than conventional 10:7 aspect ratio) and it performs admirably. Images come out sharp, with great colors and above average dynamic range. We're inclined to forgive the higher than average luminance noise, because the lighter noise reduction algorithms have resulted in plenty of detail.
Audio output, in typical HTC fashion, is exemplary. The One M9 aced our tests both with and without headphones, and we have nothing but praise for it. The stereo speakers didn't break our sound level meter, but did produce excellent quality output, not that we expected otherwise.
Key test findings:
Superior build quality, the smartphone is a joy to handle and looks dazzling
The screen looks to be the same high-quality unit as on the HTC One (M8) with great maximum brightness and contrast but average legibility under direct sunlight
Above average 62h battery endurance rating, but unimpressive screen-on time of less than 8 hours
Latest iteration of Sense UI is feature rich, without being overly heavy
Performance is top-notch initially but the device tends to heat up after a few benchmark runs and results take a solid hit. New firmware update brings temperature down, but with a drop of CPU performance
20MP main camera produces first-rate images with a wide dynamic range, accurate colors and correct exposure, although on the noisy side
Video recording quality is decent, but not chart-topping. There's plenty of detail at 2160p, but also high noise levels. The lower res camcorder modes have their issues too
Exceptional audio quality across the board. The output from the 3.5mm jack is stellar whether plugged to headphones or to an external amp. BoomSound speakers deliver high quality output but fail to impress in loudness
Standard-issue video player, which lacks support for subtitles and DivX/MOV videos, no AC3 sound either; you'd have to get a third-party player
Comprehensive multimedia package with a capable gallery and music player. The Zoe app adds a new dimension to storing and sharing memories
The HTC One M9 looks the part as always, and is a competent overall package. It simply doesn't bring anything particularly new and exciting to the table. Latest firmware installed, benchmarks show performance on par with the best of last year.
The One M9 is trapped between Apple's current smartphone pair in terms of size. Apple was never the one to play the specs game, where the One M9 easily has the upper hand. The iPhone 6 and iPhone 6 Plus do offer the same superb build as the HTC flagship, and iOS has the rich ecosystem that drives the company's profits - and saves users from the upgrader's dilemma.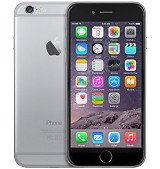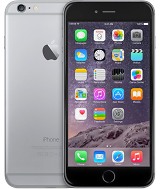 Apple iPhone 6 • Apple iPhone 6 Plus
HTC must be hoping its loyal fans are quite like Apple's in that they care less for specs and more about looks and the user experience. That's valid tactics but to really succeed, HTC needs the One M9 to be liked by more people than just its faithful.
OK, maybe it's no coincidence that this year's Android flagships invoke comparisons with Apple. The Samsung Galaxy S6 did too, be it for completely different reasons. If it's one droid against the other though, things are looking grim for HTC.
The Galaxy S6 has a pixel-dense 5.1-inch QHD AMOLED stunner of a display, as well as arguably the best chipset on the market, Samsung's own Exynos 7420. The loss of the microSD slot may be the one feature to steer a potential buyer to HTC's camp. Samsung has finally caught up on the upmarket feel this generation and in that department choice now comes down solely to personal preference of glass or metal.
The Sony Xperia Z3 is due for a replacement later this year, but can nonetheless stand up to the One M9 today. It sports a bigger 5.2-inch display in a marginally larger footprint, but it is way slimmer. It does pack a 2-generation old chipset though, and that shows in the benchmarks. It more than makes up for it It is the only flagship here with IP68 certification, and that alone should be enough of a deciding factor with a price advantage of about €200/$200 over the One M9.
LG is on the verge of announcing the G4 flagship in as little as one month and in the meantime, it's the G Flex2 that holds the helm. The G Flex 2 is a bit larger, but has a 5.5-inch screen to show for it and manages a noticeably better screen-to-body ratio at that. Same chipset inside, LG's offering has a 3GB/32GB version that matches the One M9 byte for byte. And while HTC's flagship trumps the G Flex2 in the megapixel race, the LG sports optical image stabilization, which the One M9 lacks. The G Flex2 has a curved body with a flashy paintjob and a self-healing back to put up against the One M9's metal unibody.
LG's interim flagship and last year's Sony's best are roughly HTC One M9's equals - and in some respects superior. Well, some people may have a problem with that. We think it's still one of the best smartphone designs around and the M9 is the best of the One series. It just feels as if Google, Qualcomm and Toshiba all did their part while HTC's calendar was stuck in 2014. It may very well be the Pirelli calendar of smartphones but still, it's a year behind.