HTC Zoe is here
HTC Zoe is a mini social network centered around sharing photos and videos. A landmark feature is the cool Highlights videos, which are created automatically for each album.
Zoe requires you to sign in with your HTC account the first time you open it. This is to enable sharing with other contacts, who can add their own photos, videos and music to the Highlight videos that are created automatically from your shots.
You can send requests to your friends too, to give them a little nudge to add shots to your Highlights. You can manually create a Highlight video too - you simply choose from the available images, select a theme and soundtrack and you're done.
Gallery with Highlights
The Gallery app uses a Lollipop style navigation drawer to separate viewing modes. Timeline and location group photos accordingly, while Albums work like folders. You can manually create albums, the app will ask you to select a number of photos and videos to either copy or move.
Mass selection of photos seems to be lacking which is rather annoying and photos have to be moved one by one.
A nice little addition to the gallery is the custom search function. Interestingly enough it not only goes through photo meta data, but can also do a sort of reverse image search and find similar photos to a preselected one.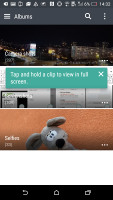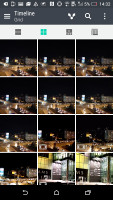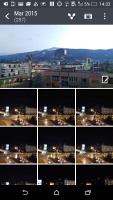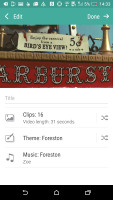 The image gallery • Customizing an album's Highlight video
All albums get a Highlight video as their title image. You can select which items go into the video, in what order and with what effects and music. There are options to go back to the default chronological order, music and theme so don't be afraid to experiment. The start and end clips can be selected manually if you want to create a sort of title card and credits.
The editing options range from basic crop/rotate/flip to frames and advanced effects like simulated lighting, adjusting face contour and eye enhancements.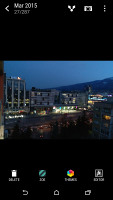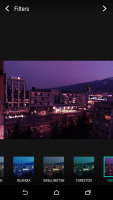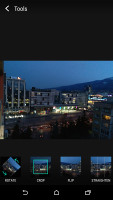 Viewing a single image • Image editing options
You can also choose an image from the gallery and use it as a base for a custom theme. The theme generator automatically suggests a highlight color, among other things, and you can complete your custom theme in just a few seconds. Of course, you can edit it later through the Themes app.
There's a special Media gesture useful here and in the music and video players - swipe up with three fingers to "throw" the content you're viewing to a DLNA device.
Integrated video player lacks DivX and AC3 codecs
There's no dedicated video player on the HTC One M9, you browse videos through the Gallery or the File Manager. The video players supports the most common containers - AVI, MP4, XviD and MKV and even WMV - but codec support is spotty. DivX didn't work at all, there is no support for AC3 audio either. MOV files are a no-go, too.
As for the interface, you get basic playback controls and the option to snap a screenshot. Subtitles are not supported.
Sensed music player
The HTC Sense 7 changes the color scheme, but keeps the interface - it uses a tabbed layout and as with other apps you can hide tabs and reorder them. The tabs sort your music library by different categories and include the relatively rare Folder view, in case you have a sort of "mixtape" folder.
The first time you launch the music player it will ask whether it should automatically download Album art, artist photos and lyrics and you can limit it to Wi-Fi only downloads.
HTC One M9 doesn't offer equalizers. All you get is a BoomSound with Dolby Audio option, which works with the integrated speakers and with headphones. You can choose from the BoomSound predefined enhancements, which work with the newly announced HTC Pro Studio, HTC in-ear and HTC regular earbuds. Otherwise you must select 'Other' and hope for the best. We tried a few earbud headsets and it seems BoomSound worked quite well, improving the overall quality.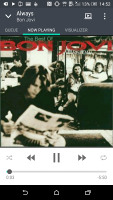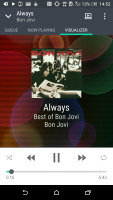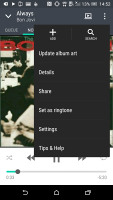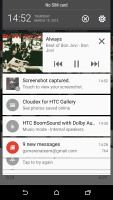 Now playing interface • visualizer • notification area music controls
Audiophiles should be glad to hear FLAC is supported (both 16-bit and 24-bit).
You can use the three-finger Media gesture to continue playback on a DLNA device. Bluetooth with aptX is another high-quality option to wirelessly stream audio.
The HTC One M9 also packs an FM radio too, though it doesn't have RDS support. It can play through the speakers but you still needs a pair of headphones to serve as an antenna.
The best audio output got even better
Consistently excellent - it's the kind of boring we like to see in our smartphone tests. HTC keeps setting the bar for audio output higher and higher and yet it somehow manages to beat it with each of its next flagships. The One M9 is yet another benchmark setting device, delivering output way beyond the reach of any of its competitors.
The smartphone delivers flawlessly clean output both with an active external amplifier and when you plug a pair of headphones. Even the stereo crosstalk spike that's a permanent fixture in the output on just about every other smartphone out there is nowhere to be seen with our standard headphone set.
Volume levels are equally impressive - the One M8 was already pretty loud, but the M9 blows it out of the water and again that's both testing scenarios. There are only a few smartphones louder than the M9 in the whole history of the industry, but none of them can match its clarity. A top performance indeed and one that even HTC will struggle to improve on.
| | | | | | | |
| --- | --- | --- | --- | --- | --- | --- |
| Test | Frequency response | Noise level | Dynamic range | THD | IMD + Noise | Stereo crosstalk |
| HTC One M9 | +0.02, -0.06 | -94.8 | 93.0 | 0.0049 | 0.026 | -93.7 |
| HTC One M9 (headphones attached) | +0.03, -0.05 | -93.7 | 92.7 | 0.0082 | 0.030 | -91.6 |
| HTC One (M8) | +0.04, -0.10 | -95.4 | 93.4 | 0.0012 | 0.010 | -93.2 |
| HTC One (M8) (headphones attached) | +0.04, -0.08 | -94.9 | 93.9 | 0.0014 | 0.018 | -79.7 |
| Samsung Galaxy S6 | +0.01, -0.04 | -95.6 | 92.8 | 0.0024 | 0.0094 | -94.5 |
| Samsung Galaxy S6 (headphones) | +0.02, -0.05 | -92.6 | 91.9 | 0.0025 | 0.042 | -83.4 |
| Apple iPhone 6 | +0.06, -0.02 | -94.0 | 93.9 | 0.0012 | 0.0065 | -73.4 |
| Apple iPhone 6 (headphones attached) | +0.11, -0.06 | -93.8 | 93.8 | 0.0022 | 0.099 | -65.1 |
| Sony Xperia Z3 | +0.02, -0.08 | -86.4 | 86.4 | 0.014 | 0.021 | -86.6 |
| Sony Xperia Z3 (headphones attached) | +0.29, -0.10 | -85.7 | 85.7 | 0.035 | 0.064 | -50.8 |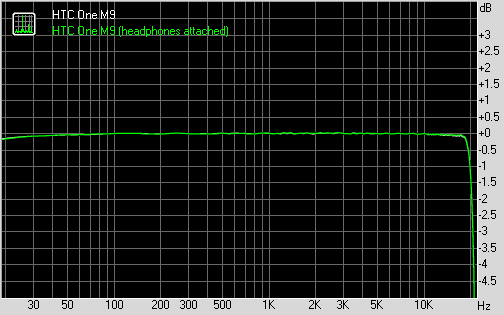 HTC One M9 response
You can learn more about the tested parameters and the whole testing process here.