Mere hours before their respective official announcements, both the HTC One M9 and the Samsung Galaxy S6 have seemingly been priced already.
In the first case, that of the HTC One M9, the information seems to be more legit, since it comes straight from a listing on Best Buy's website. That page is still up, by the way, so it's probably the real deal.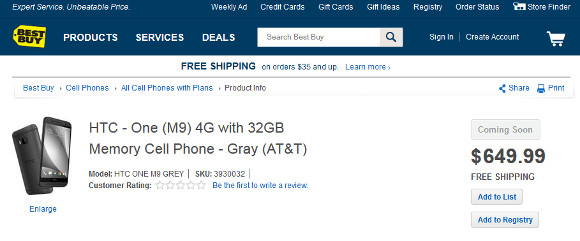 As you can see, HTC's new handset is going to cost $649.99 if you want to buy one without a two-year contract. This is the AT&T version of the device, but we have no reason to believe that pricing for other carriers will be different.
UPDATE: A retailer in the Netherlands has also put up a listing for the new HTC smartphone, but in this case the price is €749. We're used to prices being the same amount in US dollars as in euros, but this time the markup for the model sold in the EU is much higher than normally. So either Best Buy got it wrong, or this Dutch company did, or HTC is set on making its wares much more expensive in Europe than in the US.
Moving on to the Galaxy S6, a user over at the XDA-Developers forum posted a screenshot of what is claimed to be a listing for the smartphone at Samsung's UK website.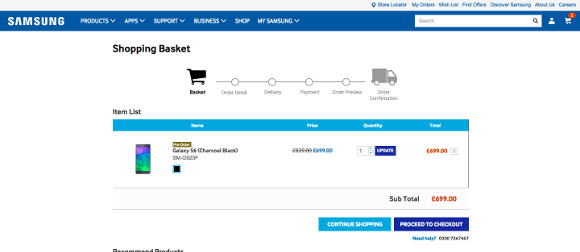 The attached price is a whopping £699, which works out at around $1,079 or €963. However, this should probably be taken with a grain of salt, as the page isn't currently online, and the picture supposedly showing the Galaxy S6 is actually of the Galaxy Alpha from last year. So someone may have employed some last minute Photoshop skills on this one.
That said, the Galaxy S6 will surely be expensive anyway, though hopefully not that expensive. We'll find out soon enough.
Source 1 • Source 2 • Source 3 (in Dutch) | Via 1 • Via 2 • Via 3 (in Dutch)
S
Unless you're me that still has the Samsung galaxy s3 and have been dying to upgrade your phone that freezes right when you are searching something and randomly deletes apps from your phone. lol
D
do you call this premium device high...was expecting $900-$1000
D
It costs 200 including all assembly possibly also marketing, rest for the retailer and manufacturer.
ADVERTISEMENTS