Google Now
As an integral part of Android Jelly Bean Google Now is present on the HTC One Max. You can get to it by holding the home button.
In addition to being able to recognize voice commands, Google Now will learn from your usage patterns, and display relevant information. For example, if you search for a particular sports team frequently, Google Now will display information for upcoming games you might want to watch.
The service interacts with you by generating cards which are displayed on your screen and give you a short overview of information it believes is relevant to you. Going to work in the morning? Google Now knows this and lets you know there's a big traffic jam on your usual way to the office, and will offer you an alternate route. This extends to a multitude of other areas, including weather, traffic, public transit stations, and nearby points of interest.
You can either type or talk to Google Now and the app will give you one of its aforementioned info cards (if available) and read you its contents aloud (you can disable this from the app settings). If there's no card to help with the answer to your question, Google Now will simply initiate a Google web search instead.
There is also a Google Now widget which generates information for you based on what your interests are.
Great phonebook
The People app in Sense 5.5 has seen some minor changes too. Instead of clickable tabs on the bottom of the screen you get side-scrollable tabs on the top, which is a more convenient solution (and along the lines of stock Android's solution).
You get the dialer, all contacts, groups (including favorite contacts there), as well as a call log. Once again, you can reorder tabs and remove the ones that you don't need (Groups or Call history).
From a drop-down menu at the top, you can filter contacts based on where they came from - the phone's address book, Facebook, Twitter or your HTC Sense account. If an account has multiple subgroups (e.g. Gmail's groups), they can be toggled individually as well.
Selecting a contact displays the basic details: name and photo, numbers, emails and such. That's just the first tab - the other tabs hold further details and means of communication, including email and a call log.
The second tab holds the texts, emails and call history between you and the given contact. The next one displays social networking contact updates, and finally the "Gallery" pulls the albums that contacts have created on Flickr and Facebook.
When editing a contact, you start off with just one of the essential fields but you can easily add more. If a contact is linked with a Facebook or other account you can see them either merged or choose to view either profile.
Telephony works like a charm
The HTC One Max did a fantastic job in our signal test, providing great reception in environments where others dropped calls. The volume in the earpiece was extremely loud (we almost never used it at full volume) while clarity wasn't an issue.
The dialer on the HTC One Max displays your recent calls with the usual tabs above accessible via side-swipes. There's smart dialing on the One Max and works really well. Once you start typing on the keyboard, contacts will be filtered by name or by phone number.
The HTC One Max doesn't support video calling over the cellular network by default, which is a pity, given that you get a wide-view front-facing camera. The good news is there are a bunch of apps which could fill in the blank spot with video calling over Wi-Fi and 3G.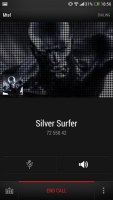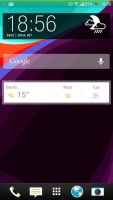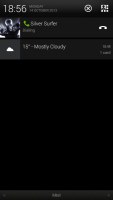 In-call screen • In-call notification
The handset packs the standard set of accelerometer-based tricks - turning the phone in the middle of a call will enable the loudspeaker, Quiet ring on pickup will reduce the loudness of the ringtone when you move the phone and Pocket mode boosts ringtone volume if the phone is in your pocket or purse.
HTC has integrated a clever Do Not Disturb feature, which blocks all incoming calls and mutes all notifications. It allows you to set up an exceptions list with select contacts who can reach you.
HTC BoomSound stereo speakers perform excellently and managed to score a Good mark in our test. This puts it head to head with the Galaxy Note 3 and even beats the HTC One by a hair. You can find more about the testing process here.
| | | | | |
| --- | --- | --- | --- | --- |
| Speakerphone test | Voice, dB | Pink noise/ Music, dB | Ringing phone, dB | Overal score |
| Sony Xperia Z | 60.1 | 58.3 | 61.6 | Below Average |
| LG G2 | 65.7 | 62.2 | 66.2 | Below Average |
| HTC One Max | 68.5 | 67.2 | 78.0 | Good |
| Samsung Galaxy Note 3 | 70.5 | 66.6 | 78.0 | Good |
| HTC One | 69.3 | 66.6 | 75.9 | Good |
| HTC One mini | 68.0 | 68.7 | 78.1 | Good |
| Samsung I9505 Galaxy S4 | 70.6 | 66.2 | 77.3 | Good |
| Samsung Galaxy S4 Active | 72.7 | 66.6 | 78.1 | Good |
| LG Optimus G | 74.6 | 71.3 | 82.7 | Excellent |
Messaging well set
Android and the HTC One Max are capable of handling all sorts of messages - SMS, MMS, email. Social networking is covered by several apps and widgets, and there's Gtalk, which can connect you to Google's chat network and compatible networks too (like Ovi Chat).
SMS and MMS messages are displayed in threads - you see a list of all conversations, each one is listed with the contact's photo, name and the subject of the last message, as well as a part of the actual message (you can choose 1, 2 or 3 preview lines). Tapping a conversation brings up the entire message history with that contact.
To add recipients, just start typing a name or number and choose from the contacts offered - the phone will find the contact you want even if you misspell it (e.g. "drx" matches Dexter).
The compose box covers about a fifth of the screen in portrait mode or about a third in landscape. A tap-and-hold on the text box gives you access to functions such as cut, copy and paste. You are free to paste the copied text across applications like email, notes, chats, etc. and vice versa.
The keyboard has been redesigned. Keys are well spaced but the overlay doesn't include any gaps between them, which is only a cosmetic feature and poses no discomfort. The 5.9" diagonal offers more than plenty of space for comfortable typing.
HTC has included Trace keyboard, which acts like Swipe. You drag a finger over the desired keys and the phone predicts what you're trying to write. It works really well but language support is limited.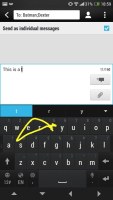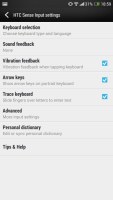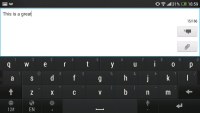 QWERTY keyboard comes with Trace
Converting SMS into MMS is as simple as adding some multimedia content to the message. You can just add a photo or an audio file to go with the text, or you can get creative with several slides and photos.
The HTC One Max comes with two email apps - the traditional Gmail app and the built-in HTC Mail app, which merges all your email accounts into a single interface.
The Gmail client has the trademark conversation style view and can manage multiple Gmail accounts. Batch operations are supported too, in case you need to handle email messages in bulk.
The HTC Mail app features conversation view in an attempt to mimic the original Gmail client threaded view, which is otherwise missing in the generic inbox. Emails in a thread are grouped and a number of emails and a down arrow appear - tap the arrow to show/hide the messages in that group.
You can add multiple accounts (from multiple services) and view them individually or in a combined inbox. Each account is color-coded, so you can quickly associate each message with its relevant account.
The Mail app has tabs, but they are hidden by default. You can choose Edit tabs from the menu and pull out the ones you want. You can choose from Favorites, Unread, Marked, Invites and Attached.
Email sorting is enabled (in either ascending or descending order) by date, subject, sender, priority and size. The currently applied filter is displayed in the top right corner of the display.
There's hardly anything we can think of that the HTC One Max lacks in terms of email capabilities. The settings for popular email services are automatically configured. POP/IMAP accounts and Active Sync accounts are supported.