FullHD video camera with HDR
The HTC One mini can shoot videos at up to 1080p resolution at 30fps. It has an HDR option for the video, but note that the frame rate falls to 28fps, if you enable it and the field of view gets narrower in this mode. It also supports 720p @ 60fps high framerate video recording.
The camera features continuous autofocus and you have the option to lock the focus during video recording, if it hunts too much in dynamic scenes.
Videos are recorded in MP4 files with an impressive 20Mbps bitrate - among the highest we've seen. Sound is captured in stereo with 192Kbps bitrate and 48kHz sampling rate. Framerate wasn't a solid 30fps, but sometimes would dip to 28fps.
Other than that, videos are okay in terms of fine detail, but not spectacular. Colors are slightly off (oversaturated), but not as much as most other phones produce.
Here is a FullHD video sample captured with the One mini we uploaded to YouTube.
You can also download an untouched 1080p sample (0:06s, 15.1MB) taken straight off the HTC One mini.
You can also watch a video shot with the bit HTC One a minute after the video above:
Here's the promised Optical Image Stabilization test. We start off trying to hold the phones as steady as we can and then shook them harder. The lack of OIS is pretty noticeable - even when we were trying to hold the One mini steady, the footage came out shaky. With stronger shaking the One mini develops a pretty bad rolling shutter, while the HTC One looks better.
HDR videos capture more detail in the highlights, but don't do much for the shadows. The white balance is off (videos have a purple tint) and the colors are duller. Combined with the narrower FoV, we'd only enable HDR for videos as a last resort when shooting against the sun.
Keep in mind, however, that the field of view gets significantly narrower during HDR video capture, which means you'll be able to fit much less into the frame than you normally would. Note that 720p mode also has a narrower FoV, nearly the same as the 1080p HDR mode.
There's a 60 frames per second mode on the HTC One mini but it reduces the maximum resolution to 720p. This doesn't sound too bad, but the actual output is pretty bad. There's very little detail and even though the clips are really smooth, we'd advise you to stay away from this mode. Oddly, we found that the 720p @ 60fps mode has the widest FoV, wider than even 1080p with HDR off.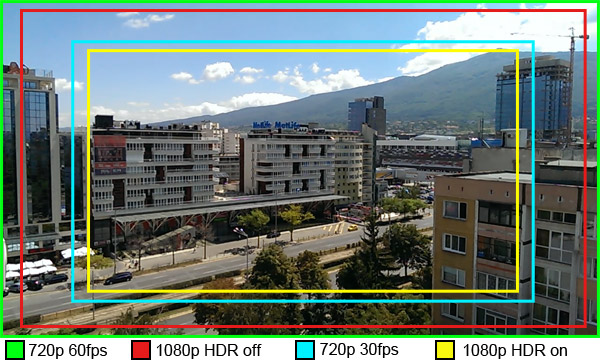 Video quality comparison
We've added the HTC One mini to our video quality comparison tool. Here it really managed to show what it's capable of. It's really good in low-light video, better than most competitors, but the bigger HTC One somehow manages to capture more detail.