Display
The display of the HTC One mini 2 is a Super LCD2 unit of 720 x 1280 resolution and 4.5 inches of diagonal. This results in a pixel density of around 326ppi.
Although not a Super LCD3 as the HTC One M8's, the screen offers great image quality and viewing angles.
Quite similar to the screen of the original HTC One mini, this one offers very good brightness and contrast, the only minor letdown being reflectivity.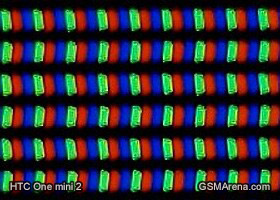 Blacks are deep at both ends of our test - at both 50% and 100% brightness. Speaking of brightness, it's a sufficiently bright screen and its contrast ratio is impressive. The LG G2 mini's screen fades in comparison and it has a lower resolution as well. Motorola's Moto G has a reasonably good 720p screen but it too gets outdone by the HTC One mini 2.
Display test
50% brightness
100% brightness
Black, cd/m2
White, cd/m2
Contrast ratio
Black, cd/m2
White, cd/m2
Contrast ratio
Nokia Lumia 630
0.24
184
764
0.71
508
771
HTC One mini 2
0.19
220
1141
0.42
501
1196
LG G2 mini
0.12
91
752
0.52
398
748
HTC One mini
0.15
177
1197
0.50
685
1361
Samsung Galaxy S4 mini
0
166
∞
0
396
∞
Motorola Moto G
0.35
315
906
0.57
550
967
HTC One (M8)
0.20
245
1219
0.46
577
1256
Sunlight legibility is quite good, just not the best. The screen performs decently under direct sunlight but it would've done better had it been a little less reflective.
Sunlight contrast ratio
Nokia 808 PureView
4.698
Apple iPhone 5
3.997
Samsung Galaxy Note 3
3.997
Samsung Galaxy S5
3.549
Samsung I9300 Galaxy S III
3.419
Nokia Lumia 925
3.402
Samsung I9505 Galaxy S4
3.352
Samsung Omnia W
3.301
Samsung Galaxy S
3.155
Samsung Galaxy S4 mini
3.127
Samsung Galaxy S4 zoom
3.118
Nokia N9
3.069
Samsung Galaxy Note
2.970
Sony Xperia Z1
2.950
HTC One S
2.901
BlackBerry Q10
2.856
Samsung Galaxy S II
2.832
Samsung Galaxy S II Plus
2.801
BlackBerry Z30
2.790
Huawei Ascend P1
2.655
Sony Xperia ZR
2.672
Nokia Lumia 900
2.562
HTC One Max
2.537
Nokia Lumia 720
2.512
HTC One
2.504
Sony Xperia Z
2.462
Samsung Galaxy S III mini
2.422
HTC One (M8)
2.371
Motorola RAZR i
2.366
Samsung Galaxy Note II
2.307
Oppo Find 7a
2.279
Apple iPhone 4S
2.269
HTC Desire 600 dual sim
2.262
LG Nexus 5
2.228
HTC One X
2.158
Nokia N8
2.144
Oppo Find 5
2.088
Nokia Lumia 630
2.056
BlackBerry Z10
2.051
Apple iPhone 4
2.016
HTC One mini
2.003
LG G2
1.976
Sony Ericsson Xperia ray
1.955
Sony Xperia Z2
1.944
HTC One mini 2
1.940
Samsung Galaxy Camera
1.938
LG G Pro 2
1.922
HTC Butterfly
1.873
Huawei Ascend P6
1.865
Sony Xperia V
1.792
Sony Xperia U
1.758
Meizu MX3
1.754
Sony Xperia T2 Ultra
1.740
LG Optimus 4X HD
1.691
HTC One V
1.685
BlackBerry Q5
1.682
LG Optimus Vu
1.680
LG Optimus GJ
1.666
HTC Desire V
1.646
Samsung Galaxy Ace 3
1.622
Sony Xperia Z Ultra
1.578
Samsung Galaxy Core
1.563
LG Optimus G Pro
1.552
LG Optimus 3D
1.542
Samsung Galaxy Core LTE
1.542
Nokia Asha 302
1.537
Sony Xperia M
1.473
Nokia Lumia 610
1.432
Samsung Galaxy Grand Neo
1.393
Gigabyte GSmart G1355
1.361
Samsung Galaxy Grand
1.321
HTC Desire C
1.300
Nokia Asha 501
1.270
LG Optimus L7
1.269
LG Optimus L9
1.227
Meizu MX
1.221
Sony Xperia E dual
1.203
Samsung Galaxy Pocket
1.180
Sony Xperia tipo
1.166
Samsung Galaxy mini 2
1.114
Battery life test
The HTC One mini 2 is powered by a 2110mAh battery, up from 1800mAh in the original, that's quoted at around 16 hours of talk time and 550 hours of standby. For a reference, the Motorola Moto G has a 2070mAh unit, while the LG G2 mini is powered by a 2440mAh monster of a battery.
The One mini 2 offers Power Saving and Extreme Power Saving modes. The former just dims the screen and throttles down the CPU, while the latter is more advanced and disables multitasking altogether and replaces the launcher with a simplified version letting you only access a basic set of features.
The HTC One mini 2 did better than the original but not quite the score we were hoping for. The 50h rating was less than we expected based on the official HTC numbers. For more information here's our full battery test post.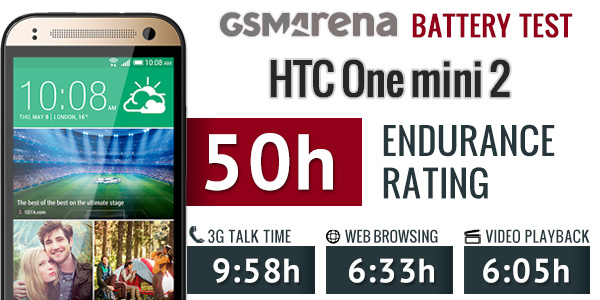 Our battery testing procedure is described in detail in case you want to learn more about it.
Connectivity
The HTC One mini 2 has quad-band 2G/EDGE support, tri-band 3G with HSPA+ (up to 42Mbps downlink) for the international version and quad-band 3G with HSPA+ for the Asian version. There's quad-band or penta-band 4G support too, depending on the region.
Local connectivity includes dual-band Wi-Fi a/b/g/n (that's both 2.4GHz and 5Ghz), Wi-Fi Direct and DLNA. There is also stereo Bluetooth 4.0 with the aptX audio codec. There's A-GPS and GLONASS for positioning too.
The handset has a standard 3.5mm audio jack and a microUSB port. The microUSB port is MHL enabled, meaning you can use it to output content to an external screen with the right type of an adapter. The microUSB port can also be used in a USB host mode where you can hook up various USB periphrals to the phone. Of course, you would need an adapter.
Just like the HTC One (M8) the HTC One mini 2 has support for the HTC Mini+ accessory. You pair the two via Bluetooth and you can then take calls, keep up to date with notifications and more on the little phone.
NFC is listed as optional and indeed our unit did not have it. HTC hasn't published a list of markets that get NFC, so that's something to check before buying one.