The HTC One mini 2 went official a couple of weeks ago, but we didn't get very specific availability and pricing information back then. A launch in EMEA and North Asia in June was all we got, but that's hardly enough for anyone in a desperate need of a super sleek compact smartphone.
Later on we got some pricing info courtesy of a couple of Dutch retailers. The unofficial info had it that if you wanted to get a shiny new HTC One mini 2 in Europe, you'd have to shell out about €470.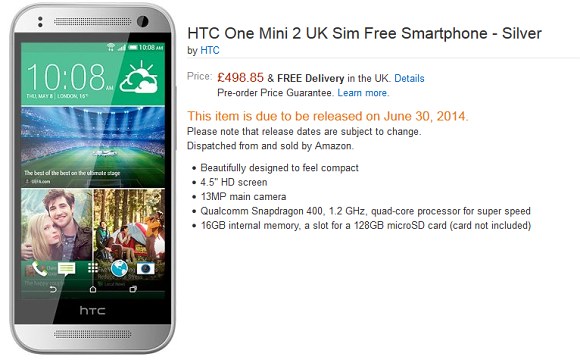 Now, however, Amazon UK has chipped in with a listing for the smartphone, which tells a somewhat different story. The One mini 2 is priced at £498.85, which translates to the much steeper €615. We wouldn't hit the panic button just yet - such preliminary listings put an inflated price, which goes does by the time the device launches more often than not.
The more interesting (and probably more accurate) part of the listing is the estimated availability date - the One mini 2 is set to go on sale on June 30. That's not ideal given the earlier timeframe, but at least it's a specific date to look forward to.
The good news is you can kill some of the time waiting by checking out our HTC One mini 2 hands-on.
d
we have had this phone in store from the end of may. its also free from £25 per month which is not very expensive when compare to other mid range smartphones. Loosen the purse strings folks!
I
Crazy price. Better to get Moto G LTE or Moto X for much cheaper.
D
I would pay that much for the device if it came with the same processor and ram like the m8 but it doesnt ... half specs equals half price !