Play Store and HTC Hub
The Google Play Store features several scrollable tabs - categories, featured, top paid, top free, top grossing, top new paid, top new free and trending. Apps usually have several screenshots (some even offer a demo video) so you can get an idea of what the app looks like before installing it. You can also check out comments and ratings, as well as the number of downloads and so on, to help you decide if the app is worth it.
There are all kinds of apps in the Android market and the most important ones are covered (file managers, navigation apps, document readers etc.).
Not quite an app store, but the HTC Hub is a good source of wallpapers and sound customizations - ringtones, alarms and notification sounds and entire sound sets (a set is a whole package that brings together the other three categories).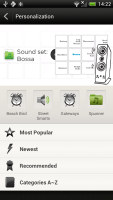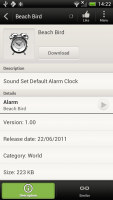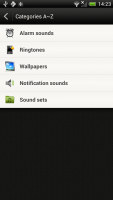 The HTC Hub is your source of customizations
Google Maps and HTC Locations to navigate you
The HTC One S has a built-in GPS receiver, which managed to get a lock in under a minute (with A-GPS switched off). If all you need is a rough idea of where you are (within 150 meters) you can use the Cell-ID and Wi-Fi network lock, which is very fast.
Google Maps is a standard part of the Android package and we've covered it many times before. It offers voice-guided navigation in certain countries and falls back to a list of instructions elsewhere. You can plan routes, search for nearby POI and go into the always cool Street View.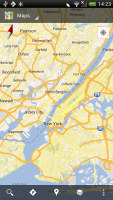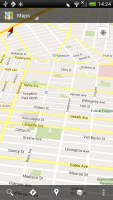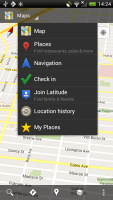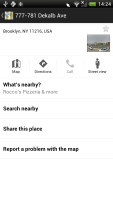 Google Maps is an inherent part of the Android platform
The HTC One S also comes with HTC Locations, an app developed in cooperation with TomTom (software provider) and Route66 (providing the maps).
With HTC Locations you can download country maps for free, or just cache maps as you browse (the size of the cache is adjustable). Google Maps has caching enabled too, but the best part about Locations is that it can even calculate new routes offline, while the Google Maps app only offers rerouting without internet connection.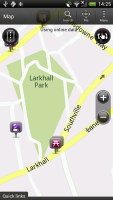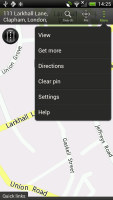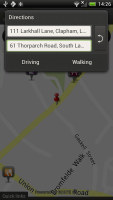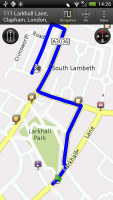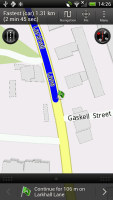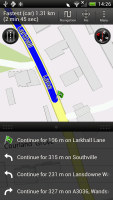 Plotting a route with HTC Locations
It will do voice-guided navigation too, but you'll need a license for that. The One S comes with a trial version worth 30 days of free worldwide navigation. A license for Western Europe will set you back a hefty €40 for a life-time license, the US is $30. Annual and monthly subscriptions are available too. You can also get traffic information and speed camera alerts (€10 for a year for Western Europe, for example). Extra voices are free.
HTC Locations has a regular 2D view and a 3D view, which is convenient because it gives you a better look of what's ahead. It's just as easy to work with as Google Maps and has POI too (including your Footprints) and also 3D buildings.
Pinch zoom works in both 2D and 3D modes and you can turn on compass mode - at first it seems choppy, but that's only to avoid wobbling (digital compasses are not the most accurate things in the world). You could use two fingers to rotate the camera manually too.