Android ICS with HTC Sense
The HTC One SV comes with Android 4.0.4 and Sense 4.1. At a time, when Android Jelly Bean is quickly becoming the standard for new devices in all tiers, we did find the presence of ICS in the One SV a bit odd. We've seen this particular combo of ICS and Sense several times already on the HTC One series phones, so don't be surprised if it looks familiar.
Here's a video demo of the UI in action:
The lockscreen is quite functional. There are the usual four shortcuts and a ring at the bottom. You can either drag the ring towards the center of the screen to unlock the phone, or any of the shortcuts into the ring to unlock the phone and launch the corresponding app.
Leap view is at your service - tap the home key (while on the default homescreen) or do a pinch gesture to zoom out (with an awesome animation) to display the thumbnails of all seven homescreen panes at once. Upon a press and hold you can drag to reposition the homescreen panes. A small "home" icon indicates the default homescreen.
On the homescreen, you get an auto-hiding indicator of which screen you're on and a brand new dock with five shortcuts - the middle one is locked to the app drawer, while the other four can be customized as you please (you can even put a folder there, if four shortcuts isn't enough).
You can have as many as seven homescreens - and with all the excellent preloaded widgets, you might want to keep all of them.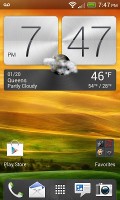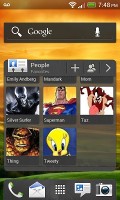 Some of the homescreen sections
The Sense UI offers one of the most full-featured customization suites around. The proprietary Scenes interface lets you choose from various custom homescreen setups, which provide new wallpaper and widget sets that can be further customized to suit your needs. This version of Sense only comes with one preloaded, but hitting the 'Get More' button on the upper right will take you to the HTC Hub where you can download additional Scenes.
Switching between scenes takes a couple of seconds, but they're a handy feature if you want to quickly change your phone's setup, such as going from work to home.
The HTC Sense has another customization option called Skins. Every skin changes the look and feel of most of the onscreen buttons, application screens, option menus, and other items. They also come with unique wallpaper each and use different colors for various UI elements. The One SV comes with a total of two preloaded skins, although like with Scenes, it's easy to get more.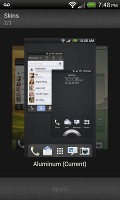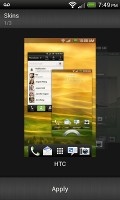 Setting a Skin from the Personalization menu
The main menu has the typical grid layout, which is composed of vertical pages with shortcuts sorted alphabetically. You can set different sorting options - alphabetical, most recent or oldest - but you can't rearrange them manually. There are Search and Play Store shortcuts along with a menu for some options.
The App Drawer uses a tabbed layout similar to different Sense elements (such as the phonebook). There are three tabs available at the bottom - All apps, Frequent and Downloads. You can rearrange them or remove Frequent and Downloads if you don't need them.
The Personalize app also has Sound customizations - you can pick a Sound set or individual ringtone, notification and alarm sounds.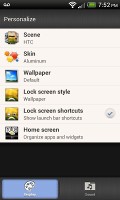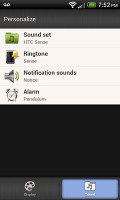 The Personalize menu does Sound too
Adding widgets to the homescreen is done in a similar fashion to Honeycomb and is one of the less successful changes since Sense went ICS.
You press and hold on the homescreen and everything zooms out so that the homescreen panes are visible as thumbnails on the top row of the screen. You tap a homescreen to select it and then select a widget to add to it (or you can just drag the widget).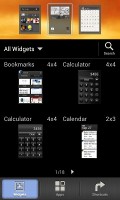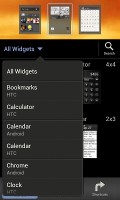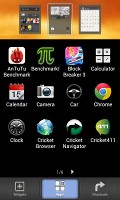 Adding a widget to the homescreen
The main problem here is with how widgets are selected - they are shown four at a time and there's a lot of scrolling involved. Widgets are available in multiple versions - usually differing in size, but also functionality - and they're all dumped into the list, so you're scrolling through a lot of duplicates.
There's a search option to speed things along or you can choose a widget from the dropdown menu and then select which size you like, but that still feels like an extra step.
Editing the homescreen is different from vanilla Android. You can tap and hold on a widget and you can drag across homescreen panes. While you're dragging a widget (or shortcut or whatever), two fields appear at the top of the screen - Edit and Remove. You can drop the widget on either one to perform the corresponding action.
When it is highlighted, Edit can be used to modify the settings of a widget - e.g. choose a different folder for the Photo Frame album or even choose a different version of the Clock widget. This saves you the trouble of first deleting a widget and then putting it on the screen again to choose a different version, setting and so on.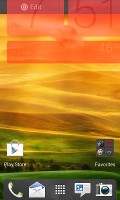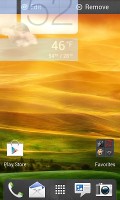 Dragging a widget gives you options
The notification area no longer has the list of recent apps - it's reserved for notifications only. No more tabs and toggles either, although you get a Settings shortcut here if you need to power something on or off. There's also a Clear button to dismiss all notification or you can swipe them off one by one.
Pressing the task switcher button on any screen displays a list of all your recently accessed apps, which you can remove with a swipe to the left or right. This is really just a quick way to access apps you've used recently, as swiping away doesn't kill them.
To actually terminate a running app, you have to close it via the traditional task manager we've become familiar with from Gingerbread. It's simple to use - each running app is listed with an indication of how much RAM it's using (no CPU usage reading though). You can terminate apps one by one and there's a Stop All button too.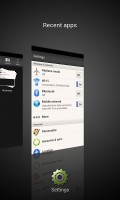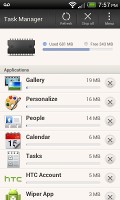 The standard task switcher • The task manager
Synthetic benchmarks
The HTC One SV is powered by a Qualcomm Snapdragon S4 chipset with two 1.2 GHz Krait cores and Adreno 305 GPU. The smartphone also offers 1GB worth of RAM, which adds up to a pretty good combination.
BenchmarkPi focuses on the CPU's per-core calculative performance. The One SV took advantage of its Krait cores and posted an excellent score here, even if its lower clock speed prevented it from coming near the best we have seen.
Benchmark Pi
Lower is better
HTC One S
306
HTC One SV
352
Samsung Galaxy Premier
372
Samsung Galaxy Nexus
447
Samsung Galaxy S II
452
LG Optimus L9
480
Samsung Galaxy S III mini
499
Samsung Galaxy S Advance
530
HTC Sensation XE
536
Sony Xperia S
536
Sony Xperia sola
551
HTC Desire X
639
On the overall performance benchmark Quadrant the One SV posted an incredible score beating lots of quad-core droids and equaling the score of the Samsung Galaxy S III. The lower resolution has certainly helped in the graphics part of the test, though.
Quadrant
Higher is better
Samsung Galaxy S III
5365
HTC One SV
5357
HTC One X (Snapdragon S4)
5146
HTC One S
5047
HTC One X (Tegra 3)
4842
LG Optimus 4X
4814
Samsung Galaxy Note
3531
Sony Xperia S
3173
Samsung Galaxy S II
3053
LG Optimus L9
3019
Samsung Galaxy S III mini
2644
Samsung Galaxy Nexus
2316
SunSpider and BrowsermMark test the Javascript performance, while BrowserMark adds a touch of HTML 5. The One SV aced both tests.
SunSpider
Lower is better
Samsung Galaxy Premier
1171
HTC One SV
1427
Samsung Galaxy Nexus
1626
HTC One S
1708
Samsung Galaxy S II
1849
Samsung Galaxy S III mini
1888
LG Optimus L9
2029
Apple iPhone 4S
2217
HTC Desire X
2259
Sony Xperia S
2587
Samsung Galaxy S Advance
2663
Sony Xperia sola
2837
BrowserMark 2
Higher is better
LG Optimus G
2555
HTC One SV
2034
Acer CloudMobile S500
1877
Nokia Lumia 820
1760
Samsung Omnia W
1632
LG Optimus L9
1329
Samsung Galaxy S III (JB)
1247
Samsung Galaxy S III mini
714
Sony Xperia J
587
So obviously the HTC One SV is a pretty good performer, fighting it out with way more expensive smartphones when it comes to synthetic performance. More importantly it does very well in real life and pushes the Sense 4.1 over Ice Cream Sandwich quite fast. There were no hiccups to speak off though the One SV wasn't as smooth as the Project Butter Jelly Bean droids.