Introduction
Well you asked for it. Seriously, we got like a thousand tips. So here it is - the HTC One vs the Sony Xperia Z battle of the gorgeous-looking flagships.
Both devices are the crucial points in their respective manufacturers' struggles to turn their fortunes around. The Sony Xperia Z and HTC One come with different skill sets but generally tend to appeal to the same group of users. Design conscious multimedia-addicts, who need top notch performance and value a streamlined interface over an endless number of features scattered around.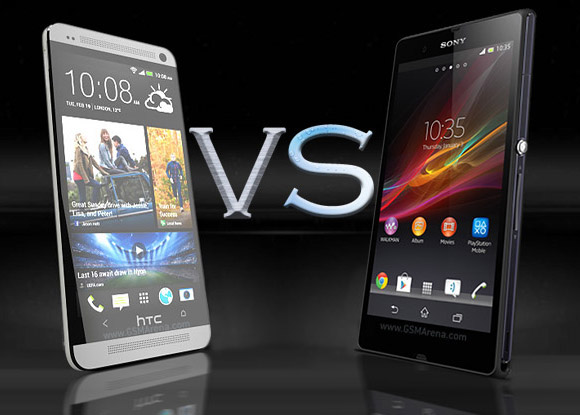 Of course, each of the two contestants has its own unique talents. The One will certainly be a favorite to those that have a soft spot for sweet audio - both through headphones and speakers. The Xperia Z on the other hand will certainly win the hearts of the outdoorsy, adventurous types who will love the fact that water and dust resistance no longer equals an entry-level feature set.
So let's see who draws first blood.
HTC One over Sony Xperia Z
Super LCD3 display with 469ppi density
Aluminum unibody
Optical Image Stabilization, image sensor with 2µm pixel size
Snapdragon 600 chipset
HTC Zoe, BlinkFeed
Front mounted stereo speakers, Beats Audio
IR blaster
Smaller footprint
Sony Xperia Z over HTC One
IP57 dust and water protection
Larger screen
All glass body
Higher resolution camera
microSD card support
Thinner body
It turns out the Sony Xperia Z and HTC One have quite a lot of differences, which are bound to give each of them an edge in some of the trials today. So it's shaping as an exciting matchup likely to resolve itself only after a fierce exchange of blows.
Going by the early sales estimates, it might be tempting to conclude that this is a fight for the second place as the Samsung Galaxy S4 is bound to beat both of these without breaking a sweat. Yet sales figures don't always mean a better smartphone and we can bet many will see their next dream handset emerge from this fight. After all, you probably won't get a more powerful water-resisting smartphone than the Xperia Z or a more visually appealing musically talented smartphone than the One.
So back to the task at hand - each of these two smartphones is bound to win the few rounds that play exactly to its strengths, but there are plenty of fights hanging in the balance. Will the new low-res UltraPixel camera with OIS of the One beat the 13MP conventional snapper on the Xperia Z? And which of these beasts manages its battery better?
There's plenty to play for here, so let's get going. The first stop is hardware, right after the break.
s
HTC one is the best in music playing and body shape unlike the z x I love HTC m7 its a good thin machine
e
HTC from de test is beta...
D
I've both Sony xperia z and htc one m7.the most i like Sony but now i rolling with ht because my sony phone is mirror broken 'two time'.:-)