Screen comparison
Sony is among the first to bring a FullHD smartphone to market and made a big deal about mobile BRAVIA 2 engine that enhances the image quality. HTC didn't boast as much about its Super LCD3 technology but we can safely say that it speaks loudly for itself and we loved seeing it for the first time on the Butterfly and DROID DNA.
First, let's get the technical side of things out of the way for a moment. The HTC One sports a 4.7" Super LCD3 panel of 1080 x 1920 pixel resolution, resulting in the insanely-high 469 ppi density. The Xperia Z spreads the same resolution over a 5" diagonal and boasts 441 ppi. The difference in numbers is minor and downright impossible to detect in real-life usage. Both phones utilize conventional RGB matrices and are as sharp as it gets - you will need a microscope to tell them appart.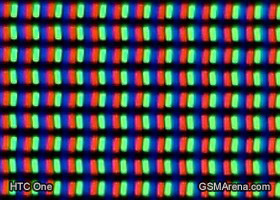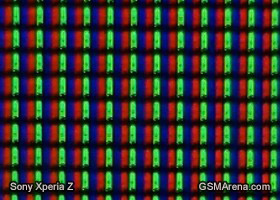 HTC One and Sony Xperia Z screens up close
The studio shots don't reveal as much as tables and charts do but you can still check out the Xperia Z next to a couple of HTC 1080p smartphones.




The HTC One vs Sony Xperia Z screens
When it comes to image quality, the Super LCD3 on the HTC One is clearly superior to the TFT of the Xperia Z. The One offers excellent contrast instead of the mediocre figure achieved by the Sony smartphone and has nicely saturated colors, too. Viewing angles are also immense on the HTC flagship and rather disappointing on the Xperia Z, so it's no contest here.
As you can see from the table below, the HTC One is brighter than the Xperia Z and among the brightest panels we've tested.
Display test
50% brightness
100% brightness
Black, cd/m2
White, cd/m2
Contrast ratio
Black, cd/m2
White, cd/m2
Contrast ratio
HTC One
0.13
205
1580
0.42
647
1541
HTC Butterfly
0.14
173
1200
0.45
501
1104
Samsung I9505 Galaxy S4
0
201
∞
0
404
∞
Samsung I9300 Galaxy S III
0
174
∞
0
330
∞
Sony Xperia Z
-
-
-
0.70
492
705
Oppo Find 5
0.17
176
1123
0.51
565
1107
Samsung N7100 Galaxy Note II
0
215
∞
0
402
∞
LG Optimus G Pro
-
-
-
0.41
611
1489
Nokia Lumia 920
-
-
-
0.48
513
1065
LG Optimus G
0.14
197
1445
0.33
417
1438
Apple iPhone 5
0.13
200
1490
0.48
640
1320
In terms of sunlight legibility both phones are equally matched with the less reflective panel of the Xperia Z making up for its lower brightness.
Sunlight contrast ratio
Nokia 808 PureView
4.698
Apple iPhone 5
3.997
Samsung I9300 Galaxy S III
3.419
Samsung I9300 Galaxy S4
3.352
Samsung Omnia W
3.301
Samsung Galaxy S
3.155
Nokia N9
3.069
Samsung Galaxy Note
2.970
HTC One S
2.901
Samsung Galaxy S II
2.832
Samsung Galaxy S II Plus
2.801
Huawei Ascend P1
2.655
Nokia Lumia 900
2.562
HTC One
2.504
Sony Xperia Z
2.462
Samsung Galaxy S III mini
2.422
Motorola RAZR i
2.366
Samsung Galaxy Note II
2.307
Apple iPhone 4S
2.269
HTC One X
2.158
Nokia N8
2.144
Oppo Find 5
2.088
BlackBerry Z10
2.051
Apple iPhone 4
2.016
Sony Ericsson Xperia ray
1.955
Samsung Galaxy Camera
1.938
HTC Butterfly
1.873
Sony Xperia V
1.792
Sony Xperia U
1.758
LG Optimus 4X HD
1.691
HTC One V
1.685
LG Optimus Vu
1.680
HTC Desire V
1.646
LG Optimus G Pro
1.552
LG Optimus 3D
1.542
Nokia Asha 302
1.537
Nokia Lumia 610
1.432
Gigabyte GSmart G1355
1.361
HTC Desire C
1.300
LG Optimus L7
1.269
LG Optimus L9
1.227
Meizu MX
1.221
Sony Xperia E dual
1.203
Samsung Galaxy Pocket
1.180
Sony Xperia tipo
1.166
Samsung Galaxy mini 2
1.114
Winner: HTC One. While both devices offer overall excellent screens that are great for consuming multimedia on the go, the HTC One clearly has the upper hand. All the Sony Xperia Z has on its side is slightly larger size and the Mobile BRAVIA 2 engine, which while doing a good job, can't quite make up for the deficiencies of its sub-par display panel.
Battery life
Our two contenders are evenly matched in terms of battery backup. The HTC One draws its power from a 2300 mAh Li-Polymer battery while the Sony Xperia Z uses a 2330 mAh Li-Ion unit.
HTC has designed a Power Saver mode, which switches the device's radios while in stand-by and can tone down CPU consumption but is no match for Sony's more complex Stamina Mode. The Sony smartphone not only gives you the usual options, but allows you to choose which apps get access to background tasks and notifications while in stand-by. We found that enabling the Xperia Z Stamina mode makes notable difference to stand-by efficiency, whereas the Power Saver on the HTC One barely affected the endurance.
Then there are chipsets to consider. The Qualcomm Snapdragon S4 Pro has four Krait cores clocked at 1.5 GHz while the newer Snapdragon 600 in the HTC One uses four of the newer Krait 300 cores clocked at 1.7 GHz.
So let's get down to it. We start off with talk time - a phone's bread and butter. The HTC One achieved an impressive 13 hours and 38 minutes, but was no match for the Xperia Z with its incredible 16 hours and 3 minutes. While the difference is impressive it's safe to say that both phones did great in this trial .
Talk time
Motorola RAZR MAXX (ICS)
21:18
LG Optimus G Pro
20:45
Motorola DROID RAZR MAXX
20:24
Motorola RAZR i
20:07
Samsung Galaxy Note II N7100
16:57
Sony Xperia Z
16:03
LG Optimus G
15:30
Nokia Lumia 620
14:17
Oppo Find 5
14:17
Google Nexus 4
14:17
Samsung Galaxy S4
13:53
HTC One
13:38
HTC One X+
13:31
Samsung Galaxy Grand Duos
12:45
Huawei Ascend P1
12:30
HTC Butterfly
12:18
Samsung Galaxy Note
12:14
Samsung I8530 Galaxy Beam
11:58
Samsung Galaxy Premier
11:30
Asus Padfone 2
11:20
HTC Droid DNA
11:07
HTC Windows Phone 8X
11:07
Samsung Wave 3 S8600
11:07
Samsung I9105 Galaxy S II Plus
11:06
HTC Desire X
11:03
HTC One X (AT&T, LTE)
10:35
Samsung I9300 Galaxy S III
10:20
Samsung I9300 Galaxy S III (JB)
10:15
Samsung Galaxy Xcover 2
10:03
HTC One V
10:00
Meizu MX 4-core
10:00
Samsung Galaxy Express
10:00
HTC One X
9:57
HTC One S
9:42
Samsung I9103 Galaxy R
9:40
HTC Sensation XL
9:30
Nokia Lumia 810
9:05
Nokia Lumia 710
9:05
Acer CloudMobile S500
9:05
Motorola Atrix HD
9:04
HTC Vivid
9:02
Nokia Lumia 920
8:56
Nokia Lumia 610
8:51
HTC Rhyme
8:48
Apple iPhone 5
8:42
LG Optimus 3D Max P720
8:42
Sony Ericsson Xperia neo V
8:41
Meizu MX
8:39
Samsung Galaxy S II
8:35
Samsung Galaxy S Duos
8:28
Nokia Lumia 800
8:25
Samsung Galaxy Nexus
8:23
Nokia Lumia 510
8:22
BlackBerry Z10
8:20
HTC Desire V
8:20
Samsung Captivate Glide
8:20
Sony Xperia T
8:15
HTC Rezound (LTE)
8:10
Samsung Galaxy Note (LTE)
8:02
LG Optimus Vu
7:57
LG Optimus 4X HD
7:41
Apple iPhone 4S
7:41
Samsung i937 Focus S
7:25
HTC Evo 4G LTE (LTE)
7:21
Samsung Galaxy S Blaze 4G
7:14
Nokia Lumia 820
7:09
Sony Xperia acro S
7:09
Samsung Rugby Smart I847
7:09
Sony Ericsson Xperia Pro
6:57
Nokia N9
6:57
HTC Radar
6:53
Samsung Galaxy Ace Duos
6:53
BlackBerry Curve 9380
6:52
Sony Xperia E dual
6:42
Samsung Galaxy S III mini
6:22
Samsung Galaxy Pocket
5:54
Nokia Lumia 900 for AT&T (LTE)
5:53
Sony Xperia ion LTE
5:52
Sony Xperia P
5:33
Nokia 808 PureView
5:16
LG Nitro HD (LTE)
5:16
HTC Titan II (LTE)
5:10
BlackBerry Bold 9790
5:00
Pantech Burst
4:46
The Web browsing differed quite significantly, though. The HTC One came on top of our chart here with the amazing 9h and 58 minutes of browsing endurance on a single charge. The Xperia Z got only an average 6h 37m score here and came far behind its competitor.
Web browsing
HTC One
9:58
Apple iPhone 5
9:56
Motorola RAZR MAXX (ICS)
9:12
Apple iPad mini
9:05
Samsung Galaxy Note II N7100
8:48
Samsung Galaxy S4
8:42
Nokia Lumia 810
8:20
Asus Padfone 2
8:20
Nokia Lumia 610
8:01
HTC One X+
7:56
Sony Xperia E dual
7:42
Samsung Galaxy S III mini
7:38
Motorola DROID RAZR MAXX
7:23
HTC Radar
7:17
Samsung Galaxy Grand Duos
7:09
Samsung Galaxy Express
7:09
Motorola RAZR i
7:06
Apple iPhone 4S
6:56
HTC One V
6:49
LG Optimus G Pro
6:40
Samsung I9105 Galaxy S II Plus
6:40
HTC Droid DNA
6:40
Samsung Galaxy Premier
6:40
Motorola Atrix HD
6:40
BlackBerry Curve 9380
6:40
Sony Xperia Z
6:37
Samsung Galaxy Xcover 2
6:35
BlackBerry Z10
6:27
Samsung I9300 Galaxy S III (JB)
6:27
HTC Butterfly
6:24
Samsung i937 Focus S
6:15
Nokia Lumia 510
6:13
HTC Windows Phone 8X
6:01
Sony Xperia ion LTE
5:56
Samsung Rugby Smart I847
5:53
Pantech Burst
5:51
Samsung Galaxy S Blaze 4G
5:45
HTC Desire V
5:44
HTC Evo 4G LTE
5:41
Nokia Lumia 920
5:40
Samsung Wave 3 S8600
5:34
Oppo Find 5
5:33
Sony Xperia T
5:33
Samsung Captivate Glide
5:33
Samsung I8530 Galaxy Beam
5:28
Samsung Galaxy Note LTE
5:24
Samsung Galaxy S Duos
5:23
HTC Sensation XL
5:20
Meizu MX 4-core
5:19
Samsung I9300 Galaxy S III
5:17
Sony Xperia acro S
5:16
HTC Rezound
5:16
HTC Desire X
5:16
LG Optimus G
5:15
HTC Rhyme
5:08
Samsung I9103 Galaxy R
5:07
HTC One X (AT&T)
5:03
Sony Ericsson Xperia Pro
4:50
LG Optimus Vu
4:49
HTC Vivid
4:46
Samsung Galaxy Ace Duos
4:45
Meizu MX
4:35
Google Nexus 4
4:34
Nokia N9
4:33
Acer CloudMobile S500
4:32
Nokia Lumia 820
4:24
Samsung Galaxy S II
4:24
Sony Ericsson Xperia neo V
4:20
HTC One X
4:18
Nokia 808 PureView
4:14
LG Optimus 3D Max P720
4:10
Nokia Lumia 900 for AT&T
4:10
Nokia Lumia 800
4:07
HTC Titan II (LTE)
4:05
HTC One S
4:03
BlackBerry Bold 9790
4:02
LG Nitro HD
4:00
LG Optimus 4X HD
3:59
Sony Xperia P
3:59
Nokia Lumia 710
3:51
Nokia Lumia 620
3:50
Samsung Galaxy Pocket
3:47
Samsung Galaxy Note
3:35
Huawei Ascend P1
3:23
Samsung Galaxy Nexus
3:01
The video playback endurance told a similar story. The HTC One again achieved a great score, just exceeding the 10 hour mark, while the Xperia Z died at about half-wait point - 5h 39min.
Video playback
Motorola RAZR MAXX (ICS)
16:35
Motorola DROID RAZR MAXX
14:17
Apple iPad mini
12:51
Samsung Galaxy Premier
12:51
Samsung Galaxy Note II N7100
11:27
Samsung Galaxy S4
10:16
Apple iPhone 5
10:12
HTC One
10:02
Samsung I9300 Galaxy S III
10:01
Samsung Galaxy Express
10:00
Samsung I9105 Galaxy S II Plus
10:00
Nokia 808 PureView
9:53
Samsung I8530 Galaxy Beam
9:42
Samsung Rugby Smart I847
9:34
HTC One S
9:28
Samsung I9300 Galaxy S III (JB)
9:27
Apple iPhone 4S
9:24
HTC Evo 4G LTE
9:07
BlackBerry Z10
8:44
LG Optimus G Pro
8:40
Nokia N9
8:40
HTC Butterfly
8:28
Samsung Galaxy Note
8:25
Samsung Galaxy Grand Duos
8:11
HTC One X+
8:11
Motorola RAZR i
8:11
Samsung Galaxy S II
8:00
Samsung i937 Focus S
7:55
Samsung Wave 3 S8600
7:52
Samsung Galaxy S III mini
7:46
Sony Ericsson Xperia neo V
7:45
Asus Padfone 2
7:38
Huawei Ascend P1
7:38
Samsung Galaxy S Blaze 4G
7:33
HTC Droid DNA
7:30
Samsung Galaxy Note LTE
7:30
Samsung Galaxy Xcover 2
7:30
Nokia Lumia 610
7:23
LG Optimus G
7:16
Meizu MX 4-core
6:33
Nokia Lumia 620
6:32
HTC Windows Phone 8X
6:27
Sony Xperia E dual
6:27
Nokia Lumia 810
6:27
HTC Desire V
6:26
HTC One X (AT&T)
6:26
Nokia Lumia 820
6:25
Samsung Galaxy Ace Duos
6:25
Nokia Lumia 510
6:23
LG Optimus Vu
6:23
Samsung I9103 Galaxy R
6:21
Nokia Lumia 920
6:19
HTC Sensation XL
6:12
Samsung Galaxy Pocket
6:06
Samsung Captivate Glide
6:04
Sony Xperia ion LTE
6:03
Samsung Galaxy Nexus
6:02
Sony Xperia T
6:01
Motorola Atrix HD
6:01
HTC Vivid
6:00
HTC Radar
5:54
Nokia Lumia 800
5:52
HTC Titan II
5:50
BlackBerry Bold 9790
5:47
HTC One X
5:45
Sony Ericsson Xperia Pro
5:44
Sony Xperia Z
5:39
Sony Xperia acro S
5:38
HTC Desire X
5:38
Pantech Burst
5:38
Meizu MX
5:27
HTC Rhyme
5:23
HTC One V
5:20
Acer CloudMobile S500
5:18
Oppo Find 5
5:18
Nokia Lumia 900 for AT&T
5:18
BlackBerry Curve 9380
5:09
HTC Rezound
5:03
Google Nexus 4
4:55
Samsung Galaxy S Duos
4:30
Sony Xperia P
4:30
LG Nitro HD
4:17
LG Optimus 4X HD
4:14
LG Optimus 3D Max P720
3:28
Nokia Lumia 710
3:27
Despite the early setback the HTC One was able to easily outdo the Sony Xperia Z in the overall tests. The web browsing endurance of the HTC flagship was particularly impressive and the video playback was easily in the upper half of our charts too. The Sony Xperia Z was off to a promising start, but once the challenges that involved operating the screen started slid down to mediocre levels.
However, the battery challenge isn't over until the stand-by efficiency is factored in and we were in for another surprise. The HTC One had high battery drain when in idle mode, whereas the Xperia Z did quite well and the final result came perfectly even at 48 h. This means that if you do an hour of calls, browsing and watching video each day you'd need to charge either of those smartphones every 48 hours.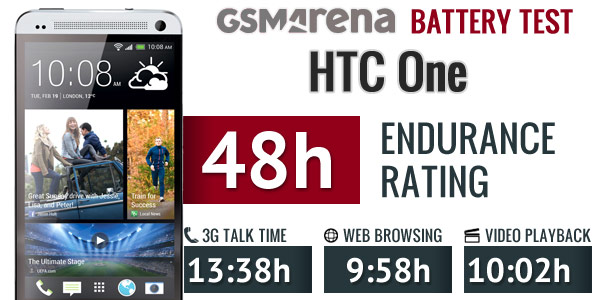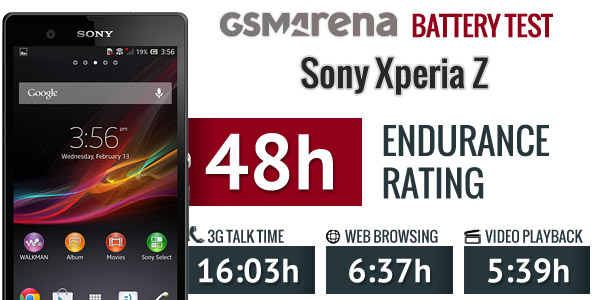 Winner: HTC One. As we see it those flagship devices are most likely to end up in the hands of power users and they won't give them much rest. And as the individual tests showed, the HTC One is simply more efficient when in use.