Camera features
For the Xperia Z, Sony used a traditional camera interface with the traditional features. HTC, too, uses a traditional camera UI (more or less standard Sense camera) but has some very interesting features.
The Xperia Z uses the well-known two column UI - basic controls on the right and four customizable shortcuts on the left. The same interface is used for stills and videos, which can be quite inconvenient when shooting 4:3 photos and 16:9 videos.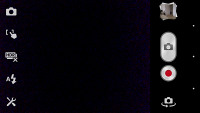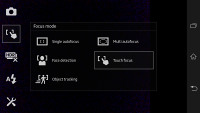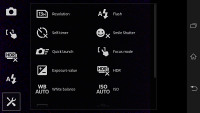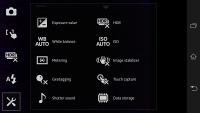 Sony Xperia Z camera interface
The phone does have a wide array of manual settings, but you can also rely on Superior Auto. It drops the resolution to 12MP, but it automatically guesses the type of scene and adjusts the settings accordingly (it displays its choice so you can correct it if it's wrong).
The Sony Xperia Z camera offers all kinds of features, including face detection, smile shutter, geo-tagging, touch capture and HDR mode. There's also the home-baked quick launch mode, which lets you select what the camera shortcut on the lockscreen does.
The HTC One interface appears simpler but it's actually more difficult to use. Only a handful of settings are available on the viewfinder (flash and Zoe), while the rest are lumped into a long menu that requires a lot of scrolling.
The same UI serves both the still and video cameras, but both are natively shot in 16:9 aspect so there's no problem here.
Zoe is the real star of the show here - we already covered it in the previous chapter, but it bears pointing out that you need to hold still for a couple of seconds to get a good Zoe shot.
The power of Zoe is that one shot can be used for different things - to make a drama shot, or to remove a moving object, for the Zoe Highlights clips and so on. In reality it's many shots (up to 20) and a 3 second video, which makes it so powerful.
Both phones are capable of capturing photos while recording video. The HTC One snaps a full-resolution (4MP) shot, while the Sony Xperia Z manages an embarrassing 1MP. We say embarrassing because a single frame of a 1080p video is just over 2MP.
Burst shot on the HTC One also captures full res photos, while the Xperia Z tops out at 9.6MP. This mode is important for the Xperia Z, though, as we'll see later.
Winner: HTC One. The HTC One doesn't have the best camera UI in the world, but Zoe is amazing and a few other things are handled better (like snapping a photo during video recording).