8MP camera does well
The HTC One X packs an 8MP camera that does stills of up to 3264x2448 pixels and records 1080p video @ 30fps. There's an LED flash / video light too.
The camera interface is the same for both the still camera and the video camera - no they don't "look alike", the camera just has the UI shared between both functions.
The right-hand side features the Effects button, shutter key, camcorder record key and a shortcut to the gallery that shows the last photo taken. On the left is the flash setting toggle, general settings and shot mode (we'll get back to that in a moment).
To snap a photo, you tap the shutter key. To record video you tap the button below - and you can still tap the shutter key to snap a full-res photo, even while recording video. Another cool option is the burst mode, which we mentioned in the gallery - you press and hold on the shutter key and it will snap multiple photos and let you pick which one to keep (you can keep all of them of course).
The effects button brings out a tab on the left with the usual set of color effects (sepia, solarize and so on). There's also some other cool effects such as shallow depth of field , which lets you blur parts of a photo that fall outside a predefined circular area. It's like having Instagram built right into the camera app UI.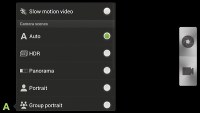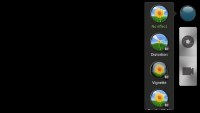 Additional options and effects
All this is pretty cool, but we had one problem with this combined interface - if you want full 8MP resolution still shots, you have to disable the Widescreen option. But then it becomes hard to frame a 16:9 video in the 4:3 view finder. That's made even worse when shooting 720p video. The field of view in that mode is narrower than what the viewfinder shows and framing involves a lot of guesswork.
The HTC One X has touch focus and face detection; geotagging and smile shutter are also enabled.
Continuous autofocus is available too which is good to have on a phone like the One X with no hardware shutter key (the virtual shutter key cannot trigger autofocus either, it does burst mode). On the downside, the continuous autofocus may be way off in some shots - the only way to be certain you have it right is to tap and hold on the spot of the screen where you want the focus to be.
The shot mode button offers some more cool stuff - HDR photos, Panorama (with a gyro horizon), portrait, group portrait, landscape, whiteboard, close-up and, finally, low light.
Group portrait is quite cool - we've seen something like it before in the Scalado Rewind. It snaps multiple photos and for each face (and the One X can track many faces), the phone automatically picks the one where that person is smiling and didn't blink and then combines them all on one single photo.
HTC didn't take any chances with the camera this time - an f/2.0 aperture and a dedicated image processing chip clearly show they mean business.
The extra thought that went into the One X camera has certainly paid off. It ranks among the better 8 MP sharpshooters out there. Detail is very good and noise is kept under control most of the time. Colors are nice without being exaggerated. The available dynamic range is quite alright too. The only issue is that the noise reduction algorithm is a tad too overeager at times, resulting in smeared detail in shadows.
We've prepared a bunch of samples for you guys below, check them out.
HTC are bragging about the instant photo capture during video recording and we decided to give it a spin. The photos are taken in 16:9 aspect ratio and are in 3264 x 1840 resolution. The idea is that you can snap fast-paced pics while you're recording a video.
The results came out really nice with good detail and motion blur is kept in check. Here are the samples.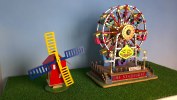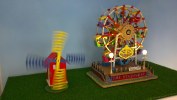 HTC One X 16:9 in-video samples
1080p video recording
The One X records 1080p or 720p videos at 30fps and it can snap photos while at it. You can also use touch focus and even toggle the video light - that's during recording!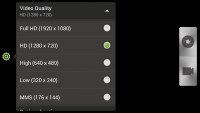 Videos are stored in MP4 files and use H.264 encoding. 1080p videos have a somewhat low bitrate of about 10Mbps, but manage to retain very good levels of detail. The colors are oversaturated though, unlike in the stills.
The One X camera boasts stereo audio recording with a sampling rate of 44kHz and bitrate of 128Kbps.
The 720p videos captured by the HTC Once X are good. They only use half the bitrate (makes sense since 720p is about half as many pixels as 1080p). You should keep in mind their field of view is narrower than the 1080p videos.
Here goes an untouched sample 720p@30fps video clip.
And here's a video uploaded to YouTube for convenience. Don't forget to click 1080p on the FullHD video sample and open the video on full screen.
We've also prepped a 720p video sample taken with the One X.
Worry-free connectivity
The HTC One X packs quad-band GSM/GPRS/EDGE and tri-band 3G with HSDPA speeds up to 21Mbps and HSUPA up to 5.76Mbps.
LTE is undoubtedly the most important connectivity feature of the HTC One X. With the network being new and having a fairly small number of devices running on it, the speeds which we encountered in the New York City area were truly amazing. Just beware of the phone's battery life and AT&T's tiered data plans.
The local wireless connectivity has Wi-Fi b/g/n and full DLNA support (both client and server, for images, videos and music) and Bluetooth 4.0.
As we already said the death grip problem haunting HTC devices of old is now taken care of and there's nothing to worry about. Wi-Fi reception is strong, as is the cell signal.
HTC has conveniently designed a special options screen, when you connect the One X with a PC. The long list of options includes PC Charge only, Disk drive (mass storage), HTC Sync, USB tethering (the phone becomes a modem) and Internet pass-through (the phone uses the computer's Internet connection). The Charge only and Disk Drive have large, easy-to-press icons, which comes in handy since they are used most often.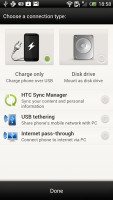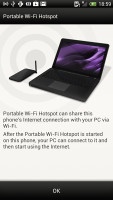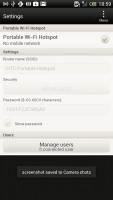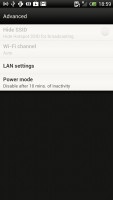 Selecting a USB connection type • Starting the personal Wi-Fi hotspot
Last but not least is the HTC Portable Hotspot. It can support up to 8 devices, you can WEP, WPA or WPA2 encrypt the hotspot and you can enable "allowed users" only to connect or leave it open for all (unsecure, but the quickest setup).
The app can be set to power off automatically after 5 or 10 minutes of inactivity, saving your battery in case you forget to switch it off when you are done with it.
The HTC One X comes with an MHL port, so if you plug a MHL dongle in, you can output HD video over a standard HDMI connection. The phone's UI is mirrored on the TV and with the HD resolution of the display, watching on an HDTV is a joyful experience.