The previously rumored HTC One X+ seems to be right around the corner, folks. The upcoming smartphone has made an appearance in a brochure for UK's wireless carrier O2.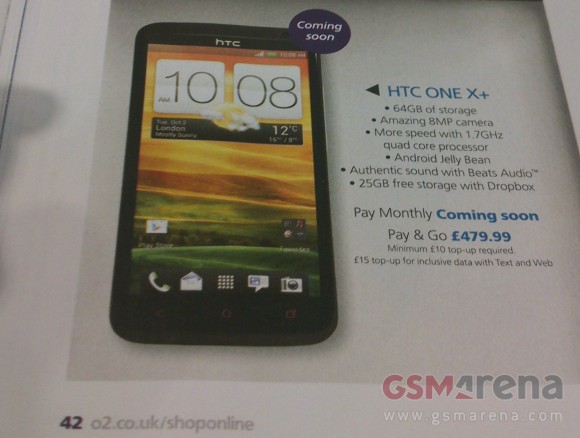 The newcomer boasts a notable bump in specs over the original HTC One X. The plus version will pack a speedier quad-core CPU, clocked at 1.7GHz and 64GB of built-in memory. Additional 25GB of Dropbox storage will also be available. The device will boot Android 4.1 Jelly Bean.
Furthermore, according to the brochure, the HTC One X+ will be priced at £479.99 on a pay as you go plan when it hits O2's shelves.
Thanks Adam Fitzpatrick!
?
the HTC One S is a Dual-core 1.5 GHz Krait NOT an A15 arm. WTF where did you here that rubbish???? HTC one s is a normal Dual 1.5ghz Snapdragon!!!
G
I feel another car analogy coming on. Some cars which you'd expect to be faster and better are not for "scientific" reasons - eg Honda Prelude 2.3 was no match for the 2.2, the Gold Mk4 GTi 2.0 was no match for the 1.8. The Prelude 2.3 was ...
D
I noticed this in the O2. Magazine, Yesterday. It's almost like The HTC. One Series are not particularly kind to the People who buy Them. For example: The one S had better Performance than the One X, even though the One X was supposed to be *The*...
ADVERTISEMENTS