An image and some specs of the yet unannounced HTC phablet device have risen from the rumor pool. Currently the device is only known by its DIx codename, which when put together with the red stripe and naming history of HTC could coincide with Droid Incredible X.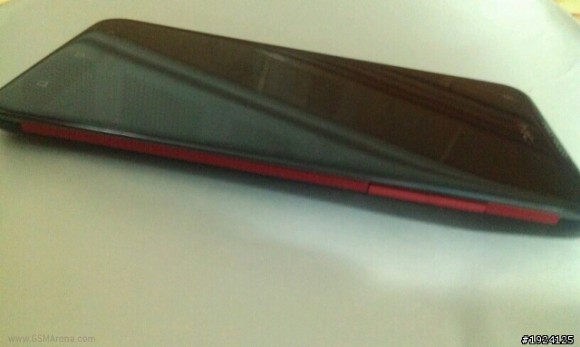 The DIx is said to feature a Qualcomm S4 Pro SoC with four Krait cores. There's 1.5 GB of RAM, 16 GB built-in storage and a 5" 1080p screen with the gutsy pixel density of 480 ppi. The device is rumored to feature a second notification LED for missed events on the back, near the camera.
Although this device looks like a prime candidate to run the newly-unearthed Galaxy Note II out of its sweet spot the source claims that the HTC Flyer's Scribe pen doesn't seem to work with the HTC DIx. This could mean that HTC isn't looking to directly compete with Samsung's S-Pen or that there will be a different Scribe pen or that the software isn't tuned yet to work with such an accessory.
The HTC DIx, pictured above, allegedly doesn't allow for memory expansion through a microSD card slot and has a non-removable battery. This could indicate a unibody design similar to the One S, One X, etc.
While all of the information points to a really exciting device we urge you to take it with a grain of salt. Things could still turn out differently. It's also worth mentioning that the HTC DIx's 480ppi is odd considering that a 5" panel with a 1920 x 1080 pixels results in a pixel density of just 440ppi. To deliver the 480ppi that the source of the rumor mentions, the HTC DIx would have to either have resolution higher than 1080p or a screen around 4.6" in diagonal. Also the DIx shouldn't be mistaken with the HTC One X+, which runs on a 720p display and a quad-core Tegra 3 processor, not S4 Pro.
M
Your wait may be longer than you think... the next Google Nexus is an LG, not an HTC!
H
I could wait HTC google Nexus. it will be my next smartphone.
?
this is something awsome , fabolous, fantastic........... no words to describe... plz tell me the price.????
ADVERTISEMENTS