The HTC Desire 8 may have just been confirmed by the company on its Sina Weibo account. The post includes an image of the Desire 8 and text in Chinese that (if Google translate is to be believed) decries the lack of marketing budget.
A second image, posted on Weibo, shows a screenshot of Sense UI with the time and date set for 10AM on February 24. That's right on schedule for the Mobile World Congress, however, the weather report on the screen reads 2°C Beijing. The initial rumor said the unveiling will take place tomorrow in Beijing but that may have been inaccurate or the event has been pushed back.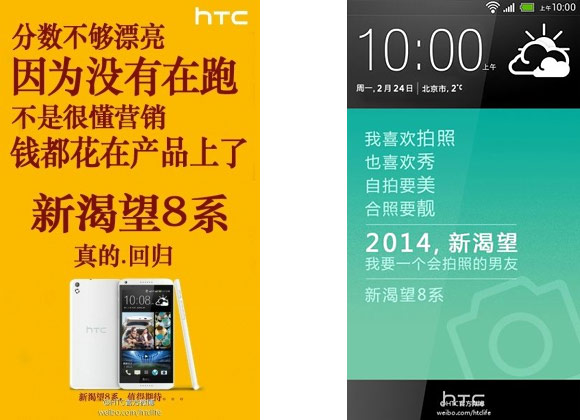 The rest of the text says that the HTC Desire 8 loves to take pictures – the rumored specs for the 5.5" phablet point to a 13MP camera on the back and a 5MP camera on the front. The phone also features stereo front-facing speakers (BoomSound) and no hardware buttons below the screen.
Yet another post references the Desire 8 and promises urBeats headphones for 5 lucky customers.
Thanks to everyone who sent this in!
s
awesome htc ,,,,,, i love htc mobiles
D
htc are best very better than any other company i love htc phones great lcd great camera great cpu great design and great sens ui6 wowwwww