The numbers of Q2 are in and it seems HTC have bounced back from a weak first quarter, though the numbers are still down compared to last year. The company is pleased with its performance in Asia, North America and EMEA.
Revenues totaled $3 billion, down 26.8% from last year's $4.1 billion but up from Q1 of this year. Operating profit went up quarter on quarter to $273 million, but that's a 57.4% drop compared to Q2 2011. The operating margin was 9%.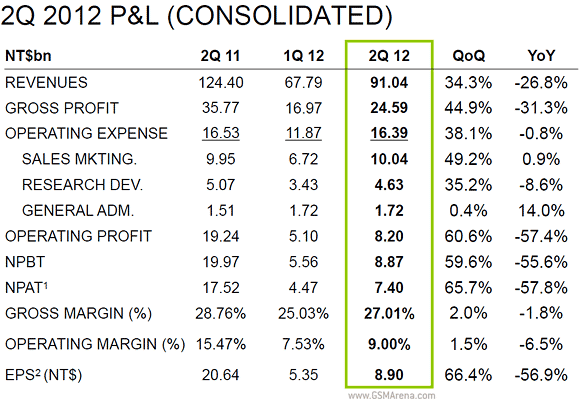 During Q2, HTC launched the Desire V for the tree largest carriers in China and thinks it can become a major player on the Chinese market. Yesterday's report from Canalys points to a 389% growth in shipments in China for HTC year over year. Sales for Asia met HTC's expectations thanks to the One series.
In North America, HTC launched the EVO 4G LTE and DROID Incredible 4G LTE and hired Mike Woodward, former AT&T Vice President of Consumer Wireless Devices, who will be responsible for company's sales, marketing and operations for the US and Canada markets. HTC's products are reportedly well received by carriers and the company underlined they will focus on consumer preference.
Anyway, looking towards the future, HTC predicts revenue of between $2.3 billion and $2.7 billion in Q3 and an operating margin of 7%.
If you're interested in more numbers on HTC financial quarter, check out their report over here (PDF).
Source (PDF)
M
They have the Explorer, I guess there's no point in going cheaper than that for an Android. In Croatia you can get one for approx 15 Euro if you renew your internet/TV contract and the classifieds are now full of Explorers for 110 Euro.
i
today is used Inc.S it good, i'll buy One X next year. Htc is top of all the smart phone.
A
hTC is seriously fantastic! I've ditched my iPhone 4s for a one x, HUGE difference! i swear i just felt like a dump for using the 4s for 6 months! hTC i wish you all the best!
ADVERTISEMENTS