Final words
Imagine a phone with a detachable camera that will let you mount the lens on a helmet, with the phone safe in your backpack or, better yet, at home. Imagine a regular phone with a water-proof camera. For all we care, someone at HTC may have been imagining a dedicated camera upgrade of the otherwise near perfect HTC One (M8). Imagination brought HTC here.
So, they're venturing into a whole new territory with the Re. The action camera market has a few prominent names but is still in its infancy, GoPro being the premier option in consumers' eyes. It's a segment, which has lots of potential to grow - and not necessarily in the area of extreme action and outdoors mostly. Perhaps HTC is looking to offer something different than just another GoPro alternative.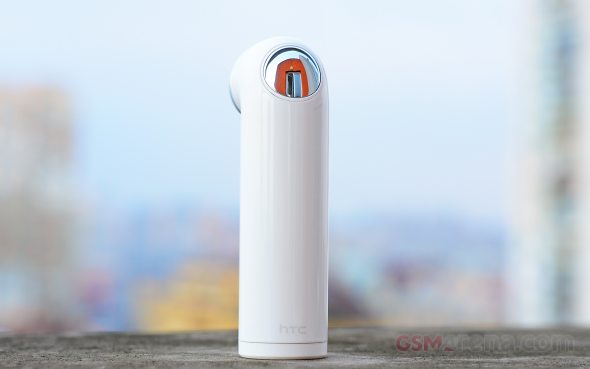 While the GoPro is a sports camera that can use a smartphone as its viewfinder it can also go without one. The HTC Re is a sports camera accessory for your smartphone and doesn't make sense without one.
Key test findings:
Solid build quality, very practical body design, though we think the tripod mount should have been made of metal
Battery life is solid
The Re app works great on Android but has jittery live view and connection problems on iOS - even with the iPhone 6
The Re camera captures images fast and runs problem-free
Image quality is good but subpar compared to the best 16MP cameraphones out there, though the dynamic range is outstanding
Video is smooth with superb dynamic range but is only average in detail and sharpness
HTC made its camera to be used with an accessory, attached to yourself, your bike or a helmet, but when they designed it, they must have had holding it in hand in mind as its prime use case scenario.
The Re camera's form factor fits perfectly in your hand where the shutter button sits right under your thumb.
The camera can certainly serve you just as well as an action cam on a hike or bike ride but it will work best as a video logger in tight cooperation with your smartphone, allowing you to capture your routine unobtrusively from some interesting viewing angles.
The Re will cost you $199 and is currently offered in three colors - white, blue and orange. HTC showed a few other colors as well, so if you fancy any of them, it may be worth waiting a bit or looking around for availability on other retail outlets.
This sort of pricing is considerably less than what the current gen GoPro devices command - $499.99 for the GoPro Hero4 Black and $399.99 for the Hero4 Silver and neither of these offers built-in video stabilization. And while those certainly have richer options and better image quality, they don't work so well as hand-held camcorders and aren't water-proof without a case.
Most of all, the HTC Re can be a really fun auxiliary camera for your phone (especially if you're rocking a 4MP "Ultrapixel" device) that fits nicely in a pocket, has the battery to last and can capture those all-important moments in a fun way.
There's very little HTC could have made better on the Re. As an experimental device, it's really spot on and we are willing to forgive the lack of high-ramerate videos or 4K video recording.
What we would really like to see on the next generation Re camera is better image quality, less noise and better low-light performance. As things stand today, GoPro, Sony and the other action cam makers are not properly challenged just yet - mostly from an extreme sports and outdoor action perspective. But the Re camera is so unique as a smartphone accessory that there's hardly any direct competition to worry about.