HTC retail stores will provide warranty service in India for Google's Pixel phones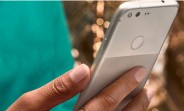 Google has partnered up with HTC stores in India to provide after-sales warranty service for Google's Pixel and Pixel XL smartphones, which are now up for pre-order in India on Flipkart starting at RS 57,000.
"We have partnered with HTC India for after sales service in 56 walk-in service centeres in over 30 cities," – A Google spokesperson
This kind of service would not be available in the US, as Google handles all its retail store services over the phone and postal services. And even if it wanted to do as it will do in India and have HTC handle warranties, HTC does not have retail stores in the US. The current store finder on HTCs US-based site will direct you to any retailer that may sell HTC phones like Walmart, or carrier stores.

The Google Pixel phones will be imported into India, so they aren't built locally, and they'll retail at more than 1000 stores all over India as it will share the same retail distribution chain as HTCs phones in several chain retailers including: Vijay Sales, Croma, Reliance Digital, Jumbo, Spice Mobility, Poorvika, and Sangeetha Mobile. Also remember, Flipkart is currently holding pre-orders for the phones as well.
D
Do the HTC service centers in India handle the warranty of Pixels purchased in US? Or in other words, does pixel support International warranty?
l
hi i buy htc 820 last week but right now shutdown and not to open what can i do
D
I feel Pixel phones would go the Nexus 6 way. Though it might be a good phone, it won't sell well. Specially in India. Changing a phone series names doesn't change how people perceive it. And Google behaving absurdly giving limited updates for Nexus ...