HTC just revealed its November revenues numbers, which show the company has halted its 4 month decline. That's hardly surprising, though, as HTC released its first two the Windows Phone 8-running smartphones that month - HTC 8X and HTC 8S.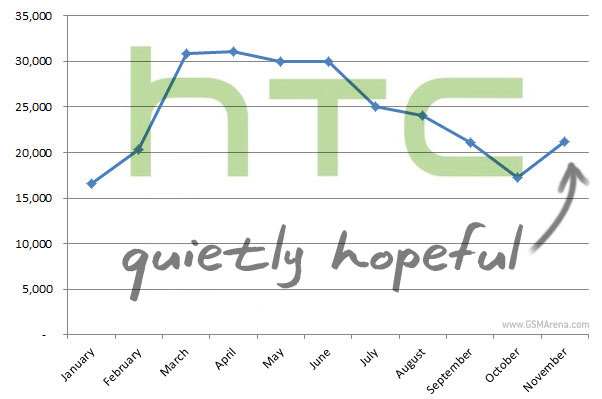 HTC also released its refreshed flagship, the One X+, but the availability of that one has been relatively limited, so we don't know how much of an impact that one made.
The HTC DNA is another droid which could have also contributed to the positive result, but its November 21 release and Verizon-only availability have probably limited its influence.
These figures bode well for Windows Phone 8 and for Microsoft, who hope to get a significant return on the newest version of their mobile OS.
?
HTC'S management is really bad .htc don't care tso employees don't careles.HTC plz cre abt it
R
HTC makes magical phones but as i have told their marketing people many times. Very bad marketing in up coming markets like Africa. In South Africa Samsung launched the S3 in grand style. Result, every one has a S3 now HTC did no marketing here for O...
H
I completely accept Kabhi's comments. No one can make such great smartphones. But the management people are dump to customers on fixing bugs, updating soft wares. And the worst thing is their marketing. You can't find ad like Samsung or apple. Sa...
ADVERTISEMENTS