HTC is campaigning hard to train sales associates to sway buyers from purchasing a Galaxy S5 and to get an HTC One M8 instead.
If you take a look at a page from HTCís latest training materials below, youíll see that proving itís better than the Galaxy S5 is a top priority for the Taiwanese manufacturer. So much so that the title of the training packet is the ďTop 5 reasons why the HTC One (M8) is better than the Samsung Galaxy S5.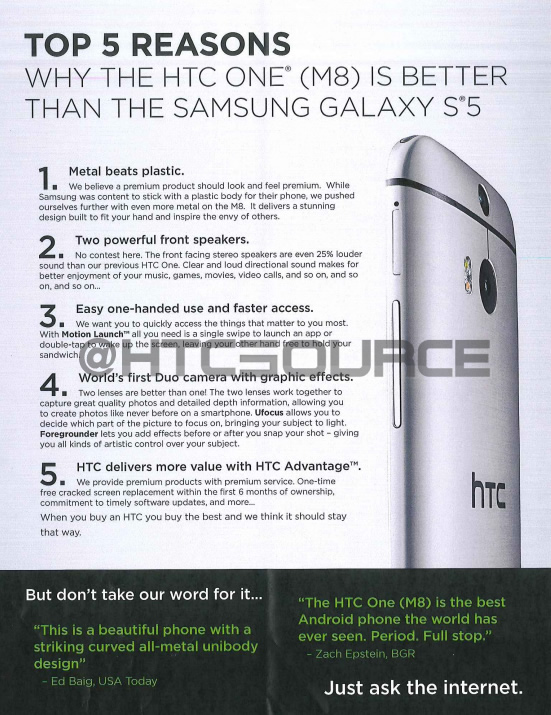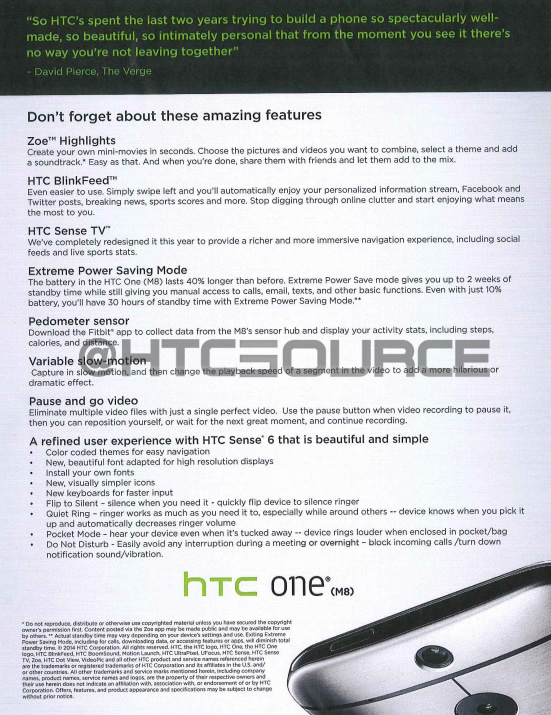 So what are the reasons HTC mentions that their flagship is better than the Korean tech giantís?
HTC cites the all aluminum, metal build of the One as providing a more premium and durable phone, and itís hard to argue with them; the HTC One is really a pleasure to handle and definitely feels better than the S5 in your hand.
The materials also boast about the dual-front speakers of the new One M8, a major selling point of the original HTC One. They also mention the Motion Launch feature which is supposed to help you use the handset with one hand more easily.
A questionable addition to the list is HTCís duo camera; sample tests reveal that the new HTC Oneís camera still suffers from the same issues as its predecessor, and this is mostly due to the low megapixel count of the sensor.
But HTC Advantage is a nice feature: you can get your phoneís screen (should it crack) once for free within the first six months of owning an HTC One, not to mention HTCís promise to deliver timely software updates, etc.
Is anyone swayed by these selling points? Or are you going to get a Galaxy S5, or take your business elsewhere entirely?
F
Who in this day and age gives a monkey's arse about the camera? HTC wins, no question.
m
Thats like saying the gs5 is a phone, not an actual a professional camera.. pointless and better by a margin....and the m8 beats the gs5 in most benchmarks for performance...built better with better style.....HTC did a fantastic job....coming from a...
c
It's like commenters don't realize that most/all manufacturers release sales channel marketing materials like this. I remember when Samsung was trying to climb back into the high-end smartphone relevance after Apple stole their lunch money - same so...