Google Navigation is a powerful tool, but with limited availability
The HTC Salsa has a built-in GPS receiver, which managed to get a lock in a minute or so (with A-GPS switched off). If all you need is a rough idea of where you are (within 150 meters) you can use the Cell-ID and Wi-Fi network lock, which is very fast.
Google Maps is a standard part of the Android package and we've covered it many times before. It offers voice-guided navigation in certain countries and falls back to a list of instructions elsewhere. You can plan routes, search for nearby POI and go into the always cool Street View.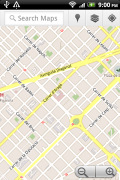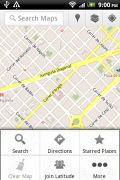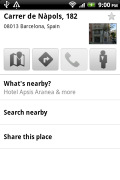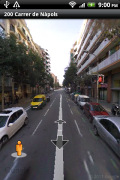 Google Maps is an inherent part of the Android platform • Street view
Google Navigation is also on board and can do voice-guidance for free. Availability is still limited though, and it relies on Internet connection.
Still, even without Navigation, there is some kind of guidance: your route and current location appear on the screen so you'll reach your destination eventually, but you'll need a co-pilot to read you the instructions for that one.
Final words
Shame we didn't think of it first. Facebook has 750 million users. And you don't actually need all of them. Oh well, some of them are obviously a bird, a rodent or a fish but that's not the point. All you need is to get a mere one percent interested in the Salsa or the ChaCha. Stick a phone in the hands of half of that and you may as well clock out and go to lunch.
HTC got it all figured out. And no, we're not making fun of the Salsa. Though honestly, we're not sure about the name. Anyway, getting your device to stand out is a tough job. Without the Facebook button, the HTC Salsa is just another midrange HTC droid that can easily get lost in the crowd.
The Salsa is supposed to fill the gap between the Desire S and the Wildfire S. HTC do well to give their users a choice in the midrange. But the HTC Salsa fears being squeezed for space between a solid performer and a friendly mini. And the heavier price tag doesn't help much.
Put the Salsa next to the competition and the Facebook thing is beginning to make sense. With it, the Salsa is an easy phone to market. There are many people out there who don't care about numbers, speed and benchmarks. This phone has a better camera, that phone has a bigger screen. Pixel this, gigabyte that. Now how about this one? This one's on Facebook – big time!
The rest would be glad to know there's more to the Salsa than a certain blue button. It trumps the Wildfire S with a bigger screen size, faster processor, web Flash support and video calls.
Not least, it comes in a solid unibody and a choice of paintjobs. HTC have made the Salsa attractive to the young.
But it sure has to work hard to keep their attention. The competition will be looking to balance out the obvious advantage by raising their bid elsewhere.
The Samsung I9000 Galaxy S offers a bigger 4" screen, a 1GHz processor and up to 16GB of inbuilt storage. Even the SL variety, which comes with a Super Clear LCD instead of an AMOLED screen is a nice alternative in the same price range as the Salsa.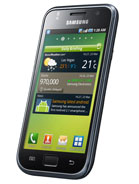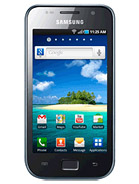 Samsung I9000 Galaxy S • Samsung I9003 Galaxy SL
Sony Ericsson has the XPERIA Neo to challenge the Salsa, and probably win hands down, if it wasn't for the unibody build and the Sense treatment. But there's another, perhaps even greater, threat looming in Sony Ericsson Xperia ray, which we just recently previewed. It will most likely cost more though.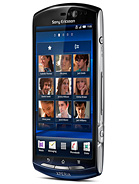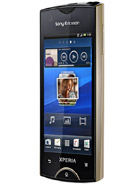 Sony Ericsson Xperia Neo • Sony Ericsson Xperia ray
An AMOLED screen that we loved and a Symbian Anna upgrade coming up to give the Nokia C7 a new lease of life. With a better display, rich media package and superior connectivity, including free SatNav, the Nokia C7 is worth a look. Not to mention it's quite cheaper. Just be warned that you won't be getting the same level of social service integration.
The main pressure on the Salsa will be coming from the Android midrange, where LG and Samsung are traditionally doing well. Windows Phone 7 too is in the picture with a more than solid approach to Facebook.
But, the HTC Salsa has just the right reply to all of them. The little blue button does not entitle the HTC Salsa to call Facebook its own. But it gives a certain set of users something to connect with. It may seem a small thing - but the Salsa will only benefit from being focused and knowing its audience. Shame it doesn't come cheaper. We're ready to like this one. Not so sure about share. At over 300 euro sim-free, it's a tough one to recommend.