Three mobile phones walked away with a trophy at the 2008 annual European Imaging and Sound Association awards. The Walkman-series flagship Sony Ericsson W980, the multimedia powerhouse Samsung G810 and the HTC Touch Diamond were the lucky winners in their categories.
The Sony Ericsson W980 won the award for best European music phone, thanks to its sleek looks, large number of supported audio formats and good overall functionality. The innovative SenseMe and Shake control features were also taken into consideration by the association.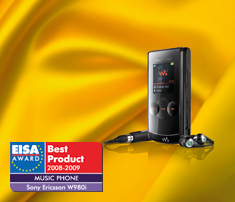 Sony Ericsson W980
Having reviewed the W980, we certainly agree that the Walkman line flagship was worthy of the prize. You can check out our thoughts on the device here.
3x optical zoom, xenon flash and the 5 megapixel sensor secured Samsung G810 the best photo phone award. The great imaging quality of the device was of course key to making the decision, but the great connectivity options and smartphone power must have given the G810 the edge over some of its competitors.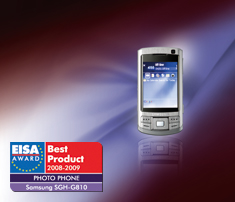 Samsung G810
Samsung G810 was announced more than a year later than its main competitor - the Nokia N95, which is probably why it never managed to become too much of a success. Still, the device is more than capable and, with xenon flash and optical zoom in mind, we can see why it managed to snatch the award.
An out-and-out review of Samsung G810 can be found here.
The last gadget to receive an award is the Windows mobile-powered HTC Touch Diamond. Voted the best smartphone, the Diamond comes with a 2.8" VGA screen and the new version of the 3D TouchFLO UI. Its specs sheet is quite extensive while looks are up to the same high standard. Now add the great performance and you've just got yourselves an award-winner.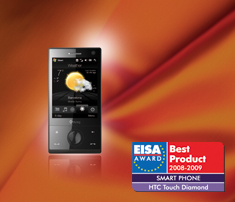 HTC Touch Diamond
Now, this is a little controversial. Not that HTC Touch Diamond isn't an awesome device, it's just the WinMo community has been divided for the past few months over the Diamond and Samsung Omnia. So, favoring one over the other will probably give rise to a lot of discontent. If we're to be asked, any of those is award-winning stuff, so EISA have every right to pick their own favorite here.
You can have a look at the epic HTC Touch Diamond vs Samsung Omnia duel while the HTC Touch Diamond review is here.
K
btw I believe Sony will do better without Ericsson. Sony, Samsung and lg all these three has good potential in my opinion.
K
LOL...if SE splits (as the rumor suggest), don't you think Sony will be in the same league with Samsung and LG then? It's the Ericsson who has the "telecommunication knowledge", not Sony. And btw if Samsung or Lg didn't have that knowledge I don't th...
H
SE still manage to floor nokia with them carl lens
ADVERTISEMENTS