Nearly a couple of months after companies like Google, Samsung, and LG said they will release monthly security updates for their Android devices, HTC has said that the company can't promise the same as it is unrealistic.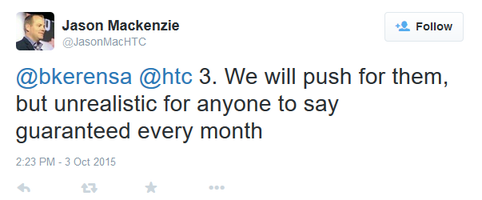 In a tweet sent out this past weekend (see above), HTC America President Jason Mackenzie said that while the Taiwanese company will try to deliver regular updates, guaranteeing an update each month is not possible as it also requires carrier approval.
If you aren't already aware, the promise from Google, Samsung, and LG came in the wake of a nasty Android vulnerability dubbed Stagefright, which affected versions 2.2 and newer of the OS. Recently, a new Stagefright vulnerability has also been discovered.
?
This is ridiculous. Microsoft releases security updates for (desktop) Windows weekly. Linux releases security updates as soon as they are available, so the could (and sometimes do) come daily--and Linux isn't even a for profit enterprise. Cyanogen pu...
?
Hmm, didn't really feel that much when I held the M8 in other and N6 in the other hand simultaneously ... Hmm. Well, that's the case for me personally. I never liked my M8 that much, but I know a bunch of people love it.
?
'...only a bit bigger'..? It's almost 1.5cm wider and taller! http://www.gsmarena.com/compare.php3?idPhone1=6891&idPhone2=6604
ADVERTISEMENTS