Synthetic benchmarks
The HTC Sensation has a 1.2GHz dual-core Snapdragon chipset with Adreno 220 graphics beating in its chest, which should put it on equal footing with the Samsung Galaxy S II.
The higher-res screen puts it at a disadvantage though as the GPU has to push out 35% more pixels that the competition. That, and the new Snapdragon chipset still uses Scorpion cores, which are getting old and there's "only" 768MB RAM, which might show in some tests.
But let's see what the benchmarks tell us. We had some problems with a few of the benchmarks (they didn't work in full screen or crashed on all phones), so we couldn't include them.
BenchmarkPi is CPU-intensive but it's not designed for dual-cores so the older CPU architecture shows clearly. Linpack on the other hand is based on a benchmark for supercomputers so it makes perfect use of all the cores it can get - the faster the better too. The Sensation is pretty much tied with the Galaxy S II here.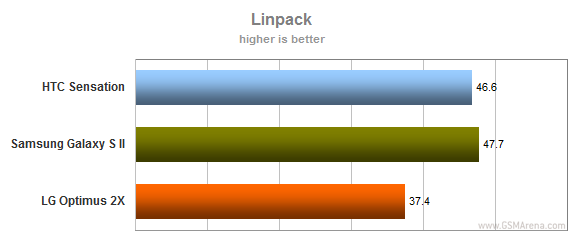 Quadrant has a 3D performance component and the Sensation is at a disadvantage here. The amount of RAM seems irrelevant to this test: the Optimus 2X only has 512MB RAM but isn't at a disadvantage.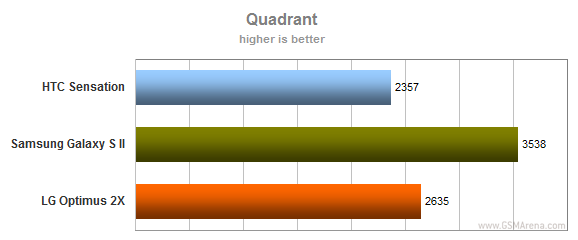 Both in-browser benchmarks that we ran show the HTC Sensation lagging behind. Now, HTC has put a custom Flash player (as they usually do) in the browser but that can't be it - SunSpider is pure JavaScript. Anyway, HTC has plenty of optimization work to do in the browser.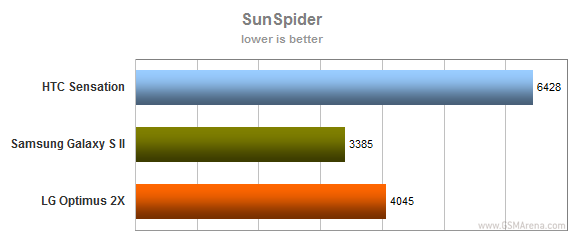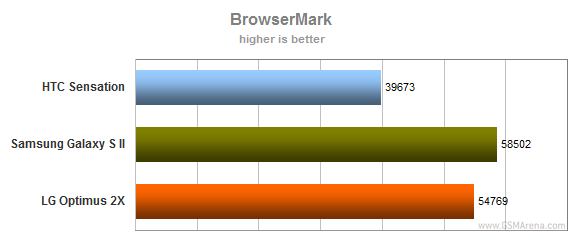 We have some GLBenchmark 2.0 results too, which show that the Adreno 220 does okay but is behind the Mali-400MP of the Galaxy S II. The Optimus 2X is not included since it didn't have enough results in the GLBenchmark database and the benchmark kept crashing on our unit, so we couldn't test it ourselves either.