The HTC Sensation is the most anticipated droid coming from the Taiwanese company this summer. It's HTC's first dual-core handset and it set to launch in the end of June. UK online retailers are already accepting pre-orders for the Sensation and it will set you back 500 pounds. That's sim-free and unlocked, so it sounds reasonable and it's certainly on par with the Samsung Galaxy SII.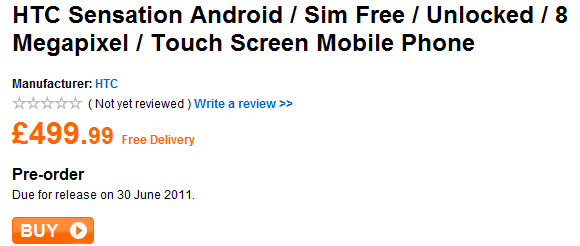 The HTC Sensation has a 1.2 GHz MSM8260 Snapdragon processor, a 4.3" qHD (540x960) S-LCD display and latest HTC Sense 3.0 UI as key features.
According to the quoted retailer, the device is set for release on 30 June 2011 and will be delivered for free in 3-5 days time. So if you're interested, head on over there and, well, you know what to do.
Source
?
iPhone 5? by the time it will come out, android will be big time infront of iPhone regarding sales and amount of apps.... iPhone will have some catching up to do or just simply drown in android apps and profit... This is just my own oppinion which i ...
?
And that is because....? I think the correct word to use would be "not planned to be released until 2012". And then it will be 'delayed' till July 2012, and then the white iphone 5 will come out in 2014. P.S What does Japan have to do...
A
Yesterday I went to shop to buy SGS2. but I came back without buying the phone...It looks sooo cheap phone bcz of its rear cover...and Samsung OS UI looks sooooo crap....the new HTC Sence 3.0 looks prettty gud...Thusand times better than any other ph...
ADVERTISEMENTS