Head to head
HTC Sensation vs. Galaxy S II vs. Optimus 2X: Head to head

GPS - lock time and sensitivity tests
GPS receivers are commonplace in Android phones but they are a finicky thing - some work well, others take forever to get a lock. And while some hold onto accurate lock, others jump around quite a bit.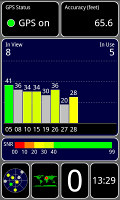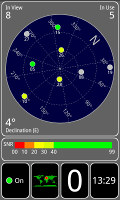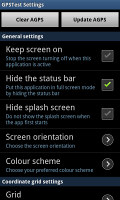 The GPS app we used for the tests shows the constellation of GPS satellites
We tested several things: how fast each phone got a GPS lock (without relying on A-GPS) and how accurate the lock was (along with any variations in accuracy). GPS tests are very sensitive to location and time of day (both of which affect the visibility of GPS satellites in the sky) so we tested all three phones at the same time to give them an even start.
The three droids got a lock in about a minute, literally seconds apart, so we'll call this test a draw. But once the initial lock was done, things went rather differently for our trio.
The LG Optimus 2X got hold of between 7 and 9 satellites and used 7 of them most of the time. The reported accuracy settled at 5m and mostly stayed there with the occasional jump to 10m.
The HTC Sensation spotted 9 satellites and used them all (more satellites potentially lead to a better lock). Accuracy started at around 8m but quickly reached 3-4m and held steady. Note that this is reported accuracy, but actual accuracy should be proportional to these readings.
The Samsung Galaxy S II performed worst in this test, using all of the 6 satellites that it managed to detect. Reported accuracy went between 18m and 20m but varied quite a bit during the test (even though the phone was completely stationary).
The GPS sensitivity was a pleasant surprise. Some people might not want to trade in their dedicated SatNav unit for a mobile phone after reading about this or that phone having GPS issues, but the HTC Sensation sure isn't one of those phones. It will do an excellent job at guiding you - provided you buy a license for HTC Locations or some other SatNav app if you prefer.
Battery test
We ran our traditional battery tests, web browsing and video playback. We already have a pretty decent library of results, so we can get a good feel of how the HTC Sensation performs battery-wise.
The browsing test was done over Wi-Fi with the screen set at 50% brightness using an automated script. The script is a bit more taxing than manual browsing, but that didn't stop the iPhone 4 running for nearly 8 hours straight.
The HTC Sensation on the other hand, managed just less than 4 hours. This isn't far off what other droids have achieved but is still the lowest result we've had so far.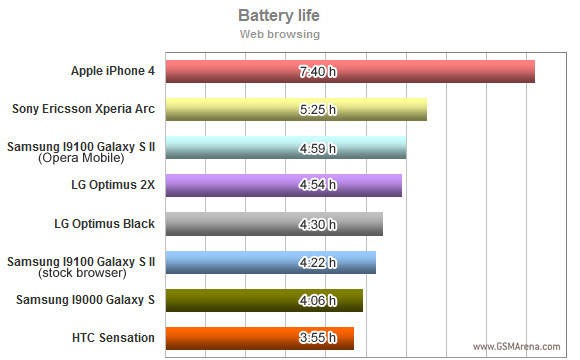 We tested video playback too. The Sensation wouldn't play the video we usually use, so we had to use another with a lower bitrate. Video tests are done in Flight mode to get the maximum run time out of each phone. The Sensation posted a time very similar to that of the original Galaxy S.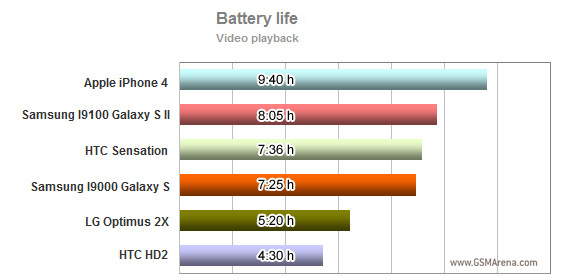 Conclusion
Well, we're sure you've already picked your favorite, but we'll have a few of our usual parting words anyway.
The HTC Sensation is a very good phone all round and the tests we ran gave us no reason to doubt it. But it's by no means perfect. The death grip issue is one thing (check our our two tests), but the battery life failed to impress too when it came to web browsing.
The camera is good, though there are better, and the screen fails to reach to the top of mobile screen goodness. The performance benchmarks did well to demonstrate the power of the 1.2GHz dual-core chipset, but the browser definitely needs more work. The GPS performance left us with nothing to complain though.
Here are a few bullet points that cover the impressions each test left us.
Good screen, but viewing angle and contrast are not the best
Still camera does well, though 8MP perfection is out of reach
Video camera is okay for casual users and records great audio, videophiles will find some faults
Performance is generally good
Web browser needs to be optimized
Good loudspeaker performance
Better output audio quality than the other two
Good battery life for watching videos, but web browsing drains it too fast
Excellent GPS performancе
If you still like the Sensation you shouldn't let comparisons get to you. And we're not implying either that one has to be an HTC fan to buy it. We'll say it again, it's a good-looking phone with plenty to like. It's just that there're some excellent alternatives for your hard earned cash. Now, who would say no to that?