Benchmarks
This may be a quick hands-on but we still found enough time to run a few benchmarks. We were unable to install any benchmarking apps so we ran browser-based benchmarks instead.
We ran BrowserMark and the Sensation XE bested the old Sensation easily - 52019 vs. 39673 (higher is better). In SunSpider, XE blew the old model out of the water, passing the test in about half the time - 3336.2ms vs. 6428ms (lower is better).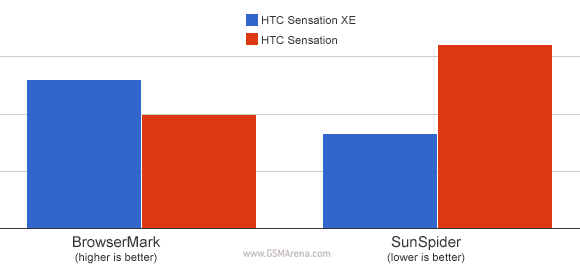 Since the 300MHz speed bump can't account for such an increase in performance, it's safe to say that HTC has been busy at work optimizing JavaScript performance. Either way, with the Sensation XE you could count on some of the smoothest web browsing in Android-land.
We also tried out the browser's Flash performance - 720p YouTube videos ran smoothly, but the browser crashed when we tried a 1080p one.
First impressions
It took HTC five months and a $300 million acquisition to go from Sensation to Sensation XE, but it seems to have been worth it. The CPU frequency boost makes sure the performance keeps up with the competition, while the Beats audio tweaks add an extra bit of sexy to the already successful mix.
The improvement in audio quality and the high-quality headset will be more than enough to generate sales of their own. Not that the headphones that came with the original Sensation and its audio output were bad, but what we have with the Sensation XE is certainly among the best audio experiences so far.
The serious intent of the Sensation XE to beat your dedicated PMP at its own game is confirmed by the even larger battery that has been fitted inside it. What's more impressive is that HTC managed to squeeze 210 mAh of power in a body that hasn't grown a millimeter in any direction.
Speaking of the body, we have to say that we are pretty fond of the facelift that the Sensation XE received. The bold red accents seem to work really well on the metallic body, so you are getting a much more youthful, but still really hot looking device at the end.
So to sum it up, if you've recently bought a Sensation, then making the switch to Sensation XE may not be worth it, but if you're on a lookout for a new high-end droid, the special headset and extra performance make the XE a strong contender.