Music and the beast
HTC Sensation XL review: Music and the beast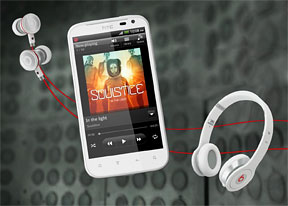 Beautiful image gallery
The HTC Gallery stacks photos like the vanilla Android gallery does (it used to display a list of thumbnails). The Albums app automatically locates images and videos, no matter where they are stored.
Images and videos stored in different folders appear in different sub-galleries that automatically get the name of the folder – which is an effective file management solution. You can also select which folders the gallery should display.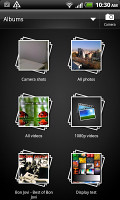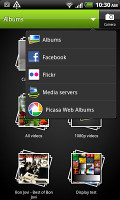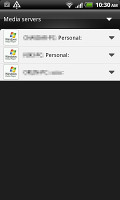 The Albums app has a new look • Albums in DLNA-enabled
Ones you pick one of the "stacks" (each representing a folder), you're presented with a grid of the photos inside. There is also a camera shortcut, but it's only available once you start browsing any of the sub-folders.
Sharing a photo on the HTC Sensation XL is very straightforward – tap the share button, pick your preferred sharing method and select one or multiple photos/videos to share. There's everything from sharing via Bluetooth or email, to posting on Facebook, Twitter or photo sharing sites like Picasa and Flickr. You can also upload videos straight to YouTube or use DLNA to push photos to your compatible TV too.
You can also mass delete images, but still no mass copy-and-paste options – you'd need a proper file manager for that.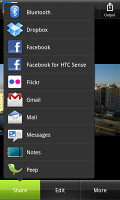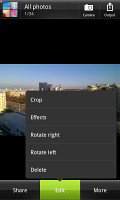 Sharing images is easy • Basic image editing tools
HTC Sensation XL supports multi-touch and you can take full advantage of it while browsing your images. You can zoom to 100% with a simple double tap on the screen. The implementation here is extra smooth too. And if you pan past the edge of an image, you'll scroll into the next image, which is a handy way to browse multiple photos.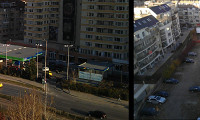 Smooth finger-sweep browsing of images and pinch zoom
Video player has spotty codec support
Video files can be accessed in the All videos subfolder in the Gallery. There's no dedicated video player.
The video files are displayed as a grid and can be shared over MMS, email, or YouTube, Facebook and Flickr, even apps like Dropbox if you have it installed.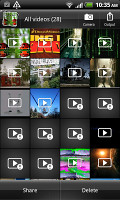 The Videos app is part of the Gallery
The video playing interface on the HTC Sensation XL offers a full screen toggle (stretches the video to the screen's aspect) and you can scrub through videos. There's no subtitle support though.
The video player was hit or miss when it came to playing videos. Non-HD resolutions would play trouble-free for all formats supported (MP4, DivX, XviD, MKV, WMV). Even some HD videos managed to play but only just - we managed to get a 720p WMV video play smoothly, a 720p MKV played (but there were rendering issues, probably encoding specific) and 720p DivX/XviD simply failed.
Beats Audio and HTC Enhancer presets are available in the video player.
DLNA connectivity comes handy too – the Sensation XL can stream the videos wirelessly to your TV.
There's no TV-Out functionality of any kind, which means you're stuck watching the videos on the Sensation XL's 4.7" screen, you can't hook it up to an HDTV.
Beats Audio enhances the music player
The music player has been updated a bit - the initial screen has two big buttons for My Library and My Playlists, with links under them to help you discover new music (album and singles chart, newly released albums and singles and so on).
The standard view for My Library is the Artists section, but you can easily switch to one of the other six categories (Albums, Songs, Playlists, Genres, and Genres) through a drop-down menu.
Another dropdown at the top of the initial screen lets you switch between the music library on the phone and DLNA media servers.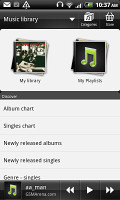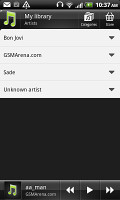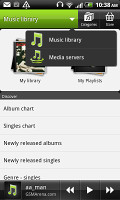 The music library • the player is DLNA-enabled too
The now playing interface is a Cover-Flow-like visualization of the current playlist – you can swipe sideways to skip songs but that worked rather strangely. You can skip between different albums/artists but not individual songs.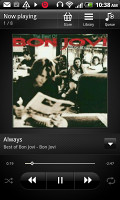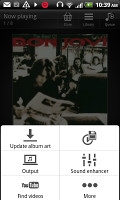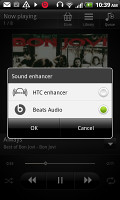 The new player interface is nice • Turning Beats Audio on
The Sensation XL offers Beats Audio sound enhancement to boost the listening experience. It was supposed to be available only when you plug in your Monster headphones but you can switch it on with any headset or headphones out there. It probably won't sound as good as with the intended Beats-made headset but you can if you want to.
There's a small problem with the enhancements - you can switch off the Beats Audio enhancement, which enables the HTC enhancer. It's one or the other though, there's no "unenhanced" mode or any other equalizer preset. Still, if you're using the iBeats headset (as you should be), you're better off with the Beats Audio enhancement anyway.
Two shortcuts in the bottom corners act as toggles for shuffle and repeat. Other goodies include looking up a song on YouTube or updating the album art for the current or all songs. You can enable auto update too.
You can share a song or use DLNA to play the song through a DLNA-enabled audio system.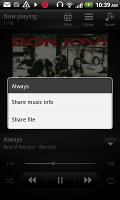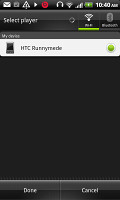 Sharing a song • Playing a song to another device without wires
The lockscreen has a neat feature - a 3D card stays on the lockscreen that lets you control the music player (previous, next and play/pause). The card also shows the album art and name of the song and artist. You can flip the card - it's backside shows album art and track info too, but lacks music controls (you can use that to prevent accidental taps that change the song).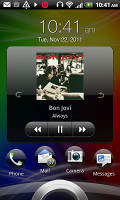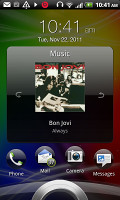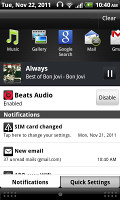 The 3D "card" on the lockscreen that controls the music player • Player controls in the notification area
There's a music recognition app preloaded on the Sensation XL, SoundHound. It easily ID's a song from just a short sample. Or you can say the name of the artist and song and SoundHound will find it for you, including lyrics. The free app however only offers a limited number of uses (99).
Beats audio can't be switched off
Much like the Sensation XE, the Sensation XL comes with the Beats audio enchaments and quirks. Once again we were unable to turn off the equalizer on the phone. Even if you disable the Beats audio option, the HTC enhancements are automatically activated, so there's no way to get what's regarded as a "clean" audio output from this one.
And while turning on certain equalizer presets are what most people prefer anyway, real audiophiles know that it's the perfectly clean, untouched audio output that makes a great music player.
Now the good news is that the rest of the readings in our test were pretty good. The HTC Sensation XL did pretty well in the active external amplifier part of the test. It was one of the loudest smartphones we have seen (matching the Sensatino XE) and got some excellent scores. Unfortunately, that equalizerfrequency response can in no way be interpreted as a good result.
As for the HTC Sensation XL performance with headphones plugged in, it's pretty good, but not quite as impressive. The volume levels drop from class-leading to above average and intermodulation distortion creeps in. Stereo crosstalk rises a bit too, but it's nothing to worry about.
Here go the results so you can see how the Sensation XL did for yourselves.
| | | | | | | |
| --- | --- | --- | --- | --- | --- | --- |
| Test | Frequency response | Noise level | Dynamic range | THD | IMD + Noise | Stereo crosstalk |
| HTC Sensation XL | +3.35, -0.42 | -85.2 | 87.2 | 0.025 | 0.084 | -75.1 |
| HTC Sensation XL (headphones attached) | +3.77, -0.54 | -80.2 | 81.2 | 0.072 | 0.569 | -64.2 |
| HTC Sensation XE | +3.46, -0.38 | -91.7 | 91.7 | 0.012 | 0.026 | -90.7 |
| HTC Sensation XE (headphones attached) | +3.87, -0.56 | -91.5 | 91.6 | 0.031 | 0.632 | -63.7 |
| HTC Sensation | +0.05, -0.34 | -90.2 | 90.2 | 0.012 | 0.021 | -91.1 |
| HTC Titan | +0.06, -0.34 | -86.9 | 87.8 | 0.015 | 0.244 | -75.5 |
| HTC Titan (headphones attached) | +0.34, -0.18 | -76.8 | 77.1 | 0.057 | 0.581 | -56.4 |
| HTC Sensation (headphones attached) | +0.71, -0.15 | -89.1 | 90.1 | 0.019 | 0.522 | -70.6 |
| Apple iPhone 4S | +0.02, -0.11 | -91.2 | 91.2 | 0.0020 | 0.012 | -93.0 |
| Apple iPhone 4S (headphones attached) | +0.05, -0.10 | -91.3 | 91.3 | 0.0068 | 0.071 | -66.7 |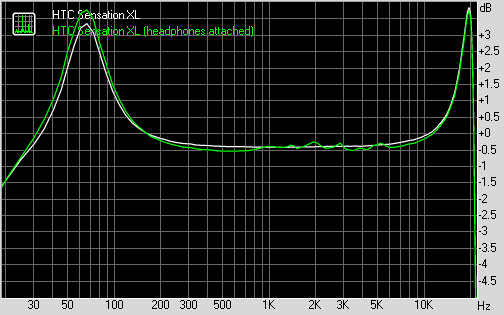 HTC Sensation XL frequency response
You can learn more about the whole testing process here.
Good FM radio
The HTC Sensation XL is also equipped with an FM radio, which has a pretty simple interface. It automatically scans the area for the available stations and allows you to mark some of them as favorite. It also supports RDS and allows loudspeaker playback.
Unlike the first Sensation, the FM radio app on the Sensation XL starts and turns off a lot faster (about a second or two).