It turns out that the new Sense UI 3.0, showcased on the HTC Sensation a couple of days back won't be supported by older HTC devices, due to hardware limitations.
This would really create a serious software gap between the older and newer generation of HTC Androids and the recently released Desire S and Incredible S are on the bad side this time.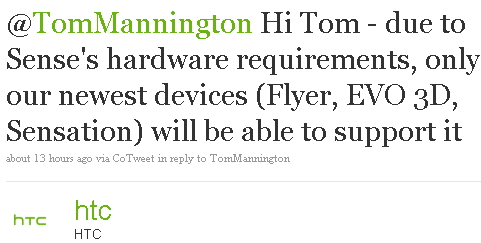 I guess the official position of HTC on the matter won't stop the enthusiasts from XDA Developers to port the new features. However latest phones like the Inredible S won't be able to benefit from those as their bootloaders have been factory locked hence locking out any attempts at flashing custom ROMs.
What's good to know is that at least the HTC Flyer, their upcoming tablet which has a single-core CPU running at 1.5Ghz, is getting the new Sense UI.
D
sense UI 3.0 supports DESIRE S! i just updated mine over the air. Nice one HTC!
A
HTC Sense 3.0: http://www.youtube.com/watch?v=xmBz3hqTNNo
?
Ya, cuz Apple has never left certain models out of the new software features, due to hardware that couldn't handle it...
ADVERTISEMENTS