Well, just in time HTC presented three spanking new devices - the HTC S730 smartphone, the HTC Touch Dual PocketPC (obviously Slide was just a speculation), and the HTC P6500 GPS-enabled PocketPC.
Just as expected, the HTC Touch has received a worthy successor, which features a sliding keyboard. The only thing it turns out that we've been wrong about is the model name. The new device is obviously not named Slide but HTC Touch Dual. Otherwise specs remain the same as projected - a bristling new 400 MHz processor, 128MB RAM, 256MB ROM, Windows Mobile 6 Pro and a 2.6" TFT touchscreen display. The HTC Touch Dual will also boast tri-band GPRS/EDGE support plus HSDPA 3.6 Mbps. A 2 megapixel camera and Bluetooth 2.0 complete the list of specifications. Unfortunately, there is no definitive answer on whether the Touch Dual will feature Wi-Fi functionality. Otherwise, the PocketPC comes with an updated version of the TouchFLO user interface which now allows you to zoom in, edit, create slideshows and pan through your images with finger gestures. The new TocuhFLO interface also allows to finger touch scrolling and browsing of web pages, documents, messages, and contacts. The HTC Touch Dual will be available in Europe later on this month with either a 16 or 20-key keypad depending on country and operator choice. The 16-key keypad is much like the one of every other mobile handset, while with the 20-key one every key is shared by two characters, which are accessible in multi-tap presses much like some RIM Blackberries.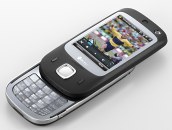 HTC Touch Dual has received a narrower body, hardware keypad, and HSDPA, but has lost Wi-Fi
Besides that, today HTC also announced an additional color variant called Arctic Silver of the original HTC Touch. The new color styling will be available from October. Product pictures of this variety, unfortunately are still not availavble. Also a free, full-screen virtual keypad will be available for download from the HTC website as an add-on to HTC Touch users.
The HTC P6500 is the next in line with a series of heart-winning features. Besides the biometric fingerprint sensor (Toshiba has that, too) situated under the 3.5" TFT touchscreen display it also warms our hearts with its 3 megapixel camera with autofocus and built-in GPS receiver and navigation (ops, there goes Toshiba). Created with the business user in mind, the HTC P6500 comes with barcode and business card scanner applications plus two SDIO ports for attaching memory cards and accessories. The device is based on Windows Mobile 6.0 Pro and comes with truly world-wide network connectivity features - quad-band GSM/GPRS/EDGE and tri-band HSDPA. Wi-Fi, Bluetooth 2.0 and the 1GB of internal memory are also to be pointed out. The HTC P6500 will become publicly available from November 2007.



HTC P6500 features 3.5" display, GPS and fingerprint scanner
The HTC S730 is the successor of the HTC S710 - a smartphone with a sliding QWERTY keyboard. The keyboard itself, as well as the design of the device, has certainly got a nice facelift. The HTC S730 sports a 400 MHz processor, 64MB RAM, 256MB ROM, 2.4" TFT display and uses the same user-friendly Home screen application as seen in HTC Touch. The device has quad-band GSM/EDGE, but most importantly HSDPA, as well as stereo Bluetooth (A2DP) and Wi-Fi support. The HTC S730 will become market available as early as this month.




HTC S730 smartphone comes with HSDPA
And finally, HTC Shift is not real news anymore, but the manufacturer has however decided to include it in today's announcements. After all, today's HTC event is all about Q4 decices, and HTC Shift is definately getting out by the end of the year. For those of you that are not familiar with the device specs - let us just give you the lowdown: 7" TFT touchscreen display with "slide-n-tilt" setup; full QWERTY keyboard, hardware, powerful enough of running Windows Vista (mind you, XP is also an option - at least untill 31 June 2008, that is); all that weighing only 800 g.; and finally, clever dual OS system called SnapVUE, allowing you to fire up Windows Mobile instantly and check your emails, messages, calendar or contacts, without waiting for the Vista to power up. Among the other fascinating features is the battery life - 3 or 4 hours of Vista time is nice enough for our standards. The HTC Shift will be out selling by the end of this month with an expected retail price of EUR 1199.
?
HTC S730 has Windows Mobile 6 Standard. What are the differences from Windows Mobile 5 in managing setup and administration of multiple phones ?
h
I bought HTC Touch with Arabic Enabled , this PDA is Stunning with features , its available here in UAE with Arabic Language and worth now 550 US$
?
Hi .. Do u have any idea if HTC is planning to have Arabic Lang. Support for its Touch and S730 Models?
ADVERTISEMENTS