Brew Mobile is in charge
HTC Hero pioneered the Sense UI on Android handsets. Then it was adopted by the Windows Mobile OS, extending the previous TouchFLO 3D interface.
The Sense is currently the most popular custom UI for smartphones andit's probably the most successful. But it was quite a surprise when HTC announced the revival of the Brew platform, which will entirely rely on the cool Sense UI.
But let's get a rundown of what makes Brew tick. Brew stands for Binary Runtime Environment for Wireless and it's created by Qualcomm. Basically it's an application development platform, which originally targeted the CDMA devices but today it already supports GSM as well.
Brew is something like a proprietary mobile software with own SDK for developing apps. It's not a real smartphone operating system, but more like upgraded feature phone software.
Initially it was difficult to distribute Brew apps, but now Qualcomm created the Plaza Retail which is some kind of an application store. Unfortunately it's strictly operator, region or device limited and HTC Smart is not supported at this moment.
To sum things up – Brew Mobile Platform is a very basic OS, closer to feature phones rather to the smartphones, with some limited app support but only through custom carrier-specific AppStores. And we didn't find any access to third party apps on our SIM-free retail HTC Smart test unit.
As far as user interface is concerned, we ve hardly seen what the regular BREW interface looks like. On the HTC Smart HTC has skinned everything with the Sense UI. This Smartie lives and breathes Sense.
The Sense UI
HTC Sense UI revolves around Scenes, which are essentially three custom homescreen setups – Work, Life style and Clean state. Each scene changes the wallpaper and the widgets on the homescreen - for instance, the Work scene has a stocks widget, while the Life style offers social widgets. The clean state has no widgets and it's up to you to customize it. After you finish adding items you may save everything as a new custom scene.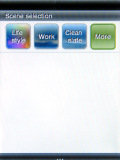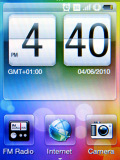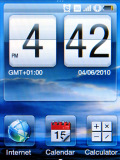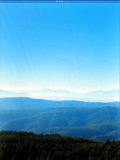 Choosing a scene • Life scene • Work scene • Clean state
You can change the current scene by dragging your finger top down from any of the homescreens. Switching between scenes takes one-two seconds and is a handy customization approach.
Every single widget takes a whole homescreen – just like with the Sense running on Windows Mobile devices. You can choose among ten availabe widgets (homescreens), but you can only have up to seven selected at the same time. People, Mail, Weather, Internet, Calendar, Music, Photos, Messages and Friend Stream plus the non-negotiable Home – those are ten screens in total. Sounds familiar, right?
The Home one packs the typical HTC clock with three shortcuts and another six on a swipe away. This homescreen has context menu offering to customize the scenes, change the wallpaper, choose the other homescreens and a shortcut to settings.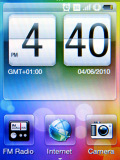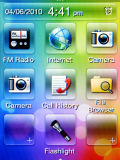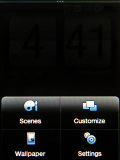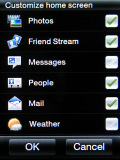 The Home screen • context menu • choosing active homescreens
The People screen packs nine contact shortcuts associated with frequently used actions (call, text or email) and your choice will be visible on the contact's thumb.
The Mail and Messages homescreens look and behave exactly as on the Android Sense – they're like widgets packing all your new and latest emails or SMS/MMS. If you tap on them, they open in the full-featured app.