Sense UI (continued)
The Weather and Calendar are the same as on the other platforms. The weather screen sacrificed the cool animations and the multiple city support though. You can still track several locations, but you need to open the Weather app itself – just tap on the widget. The Calendar needs no explanations.
Photos and Music homescreens are simple. You can't shift through the stack of images here – you can only open up the gallery when you tap on them.
With the Music homescreen you can change tracks, but you can't change the album without opening the full-featured music player.
The Browser screen has one big shortcut to the standard web browser called OMIGO and a second one for its bookmarks.
Finally comes the Friend Stream, which caters for social networking on the HTC Smart. It shows the latest status updates of your friends in Facebook and Twitter. To use this widget you must link your profile to Facebook/Twitter and have matching friends with your phone's contacts. After this is done properly, their latest updates will start coming up here in the Friend Stream widget.
The notification area that slides down like a blind is thing you may have seen on all Android smartphones. It shows any missed events or alerts. Instead of some connectivity shortcuts, you'll find the Scenes toggles at the top.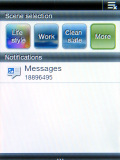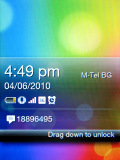 The notification area • the lock screen
The HTC Smart main menu is rather simple – it's organized in pages with 3x3 grid of icons. Swiping away through the pages of icons is easy. The submenus are visualized as text-only lists.
That pretty much sums up the Smart's interface. There is no task manager or task switcher.
Simple, but powerful phonebook
Well, HTC have their own vision of what a good phonebook should look like and despite its simple looks, the Smart's phonebook is a quite powerful.
It's most important feature is the tight social integration with Facebook and Twitter, which we enjoyed on lots of the latest HTC Androids. If you configured right your Facebook and Twitter accounts you may sync them with your Smart. That way you will have all your social buddies into your phonebook. Don't worry, HTC Smart will still let you choose which contacts to import.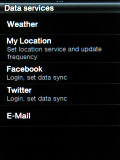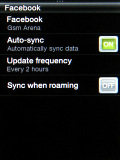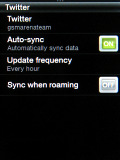 Configuring the social services and synchronization
Once imported, you will be able to track all the social activities of that person. If you already have that contact in your phone, it will merge with the Facebook/Twitter one.
The phonebook is pretty simple – it shows all of your contacts and their pictures. There is kinetic scrolling and a search option into the context menu.
Opening a contact reveals all of its details – phones, emails, etc. Above them there are three counters – messages, emails and call history. Tapping on each of them will open the relevant communication history log.