Good telephony
Voice quality in calls is quite good and the in-ear volume level is great – you don't have to set it on maximum to have a nice audible sound. Reception is trouble-free as well.
The dialer shows a list of all your contacts and those get filtered automatically once you start dialing thanks to Smart Dialing. You can also hide the keypad and directly scroll through the contacts. Everything here copies the excellent user experience of the Windows Mobile dialer.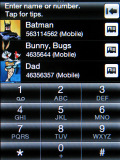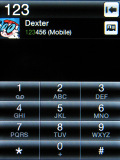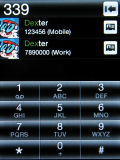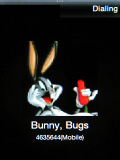 The dialer • Smart dialing • Making a call
HTC Smart doesn't have a proximity sensor, so the screen doesn't turn off during a call. Still there are no on-screen buttons during calls eliminating the chance of making accidental presses with your cheek or ear. The mute and speaker functions are the only two in the context menu.
Unfortunately, voice dialing is a no-go on the HTC Smart.
We ran our traditional loudspeaker test and the HTC Smart scored n Excellent score. Here is how it stacks among some other handsets we've tested.
| | | | | |
| --- | --- | --- | --- | --- |
| Speakerphone test | Voice, dB | Pink noise/ Music, dB | Ringing phone, dB | Overal score |
| Apple iPhone 3G | 66.1 | 62.1 | 71.7 | Below average |
| Nokia 5800 XpressMusic | 75.7 | 66.5 | 68.5 | Good |
| LG GT540 Optimus | 73.2 | 66.7 | 75.7 | Good |
| HTC Tattoo | 75.1 | 66.6 | 75.9 | Good |
| Samsung S8000 Jet | 75.5 | 68.1 | 77.9 | Very Good |
| HTC Smart | 74.9 | 73.5 | 80.9 | Excellent |
Messaging
HTC Smart supports sending and receiving SMS, MMS, and email messages. SMS and MMS share the same editor. Messages app offers only a conversation view grouping your messages by sender.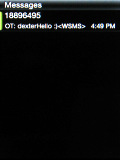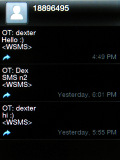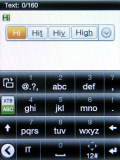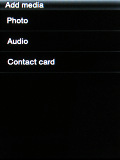 Reading messages • writing a message • adding a media (automatically converts to MMS)
When it comes to email, setting yours on the HTC Smart is hassle-free. For a Gmail account for example, all we had to do was fill in the account and password fields - the connection settings were retrieved automatically.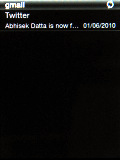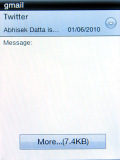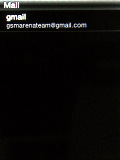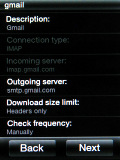 The email app • opening an email • accounts screen • editing an account
In case you have to setup your email account manually, there is a host of settings that you can tweak. Both POP3 and IMAP4 protocols are supported and you can set the handset to auto retrieve new mail at a preset. The email client supports SSL encryption too.
Multiple accounts are also supported and you can switch among them any time. Unfortunately there is no shared inbox for all your email accounts.
As you can see the overall look is pretty simple and quite different from the polished dedicated widgets on the homescreen. Still it doesn't lack any critical functionality and the messaging department covers all basics.
Simple gallery
The gallery is very basic - all images and clips are displayed all at once as small thumbs. When you select a file you can see it only in landscape mode. Swiping left or right shows you the next image.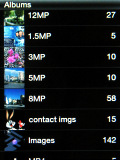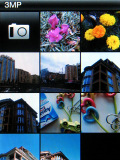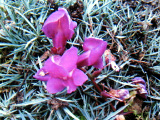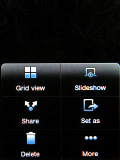 The gallery • viewing an image • settings
The gallery supports double tap zooming but it's quite slow. There is also an additional zoom bar that seems to appear only when you have zoomed in, that allows you to check the photo at pixel level and even beyond that.
Music player does the job
The music player does a good job. Tracks can be sorted by albums, artists, playlist or listed all at once.
HTC Smart's audio player offers a simplistic interface. After choosing a track, you get its album art (if available) and the music controls. There are also shortcuts for shuffle and repeat at the top bar.
There are no visualization or equalizer options.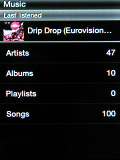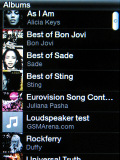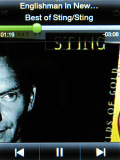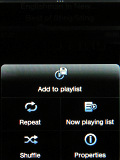 The Music player • Now playing screen • options
Basic video player
There is no dedicated video player in the HTC Smart main menu. Still you can watch video files from the gallery or the file manager.
The supported formats are MP4/3GP only and limited up to QVGA resolution. The interface is almost absent except the Play/Pause and Stretch buttons.