Mid-range connectivity
The HTC Smart is usable worldwide with quad-band GSM support. It also packs 3G support at the 2100 band. With HSDPA it seems geared for speedy network data transfers.
Bluetooth is present and it is complete with A2DP support. The miniUSB port for syncing and data transfers is also on board along with a 3.5 mm audio jack for the audiophiles.
Unfortunately Wi-Fi connectivity is not an option.
There is a microSD slot onboard supporting cards up to 16GB. Unfortunately there is no card bundled with the Smart. When you connect it to a computer, the memory card is mounted as a Removable drive on the computer in Mass Storage.
Recently HTC updated their HTC Sync software so it's now compatible with the Smart. This is your only option for synchronization with a computer so getting it from the official HTC website is highly recommended.
Disappointing Browser
HTC Smart features the latest OBIGO web browser, which is an in-house application. It's only notable feature is the Java support.
There is only one way of zooming – the double tap. Tapping twice on a block of text or an image and the handset will automatically zoom in to it. Another double tap and you are back to the previous zoom level.
Unfortunately the browser is mesquite poor. Its scrolling is OK, but the accuracy is terrible. If you want to follow some link, you will need to tap at least five times, before it recognizes your intention. Even more, the browser is very sluggish on loading and zooming, so you will need to be very patient.
Well, the browser is disappointing. But thanks to the native Java MIDP 2.1 support, you are welcomed to install Opera Mini, which will save the day.
Poor organizer
The organizer is another department in the HTC Smart UI that offers less than expected. There are only three apps in that department – the calendar, a calculator and the alarms. There is no way of jotting down a note or a memo, there is also no unit converter, office document viewer, not even a voice recorder.
The calendar offers monthly and daily view modes. You can set the starting date and time of an event and set an alarm to act as a reminder. There are no special kinds of events such as meeting, anniversary, etc. It's just a unified one – you can put subject, place, date and time, some notes and an alarm.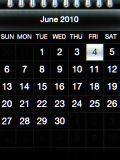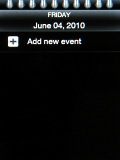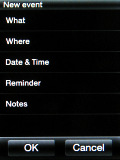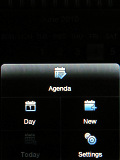 The Calendar • adding an event • calendar settings
There is also an Agenda view summarizing all of your events in one place.
The calculator offers only the basic functions and there are no advanced or scientific options.
The alarm is quite customizable. You can set up to 4 alarms, each with the following configurable options - custom ringtone, volume, repetition days and name.
Few applications
The application package is quite disappointing - weather and flashlight.
The Weather app supports up to five cities and shows a five-day forecast. Its dedicated widget shows only one as we mentioned before and there are no animation eye-candies as on Android and Windows Mobile. Still, it's a nice app and it's much better than what we've seen on other feature phones for sure.
Finally, the Flashlight turns on/off the LED so you can use it as a torch. There are three different levels of the LED power.
Three games
There are three pre-installed games – Memory, Rings and Whac'Em.
All three of them are quite simple – Memory is about memorizing and then matching similar cards, in Rings you need to throw some rings into targets and in Whac'Em you need to eliminate some moles from a corn field.
There is also a Java manager, where you can install and manage different Java applications. In fact that's the only way to put some new apps on your Smart for now.